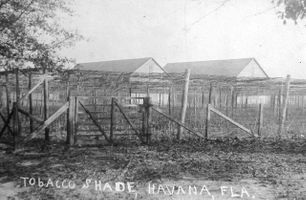 100 Years of Shade Tobacco
The Havana community was once known as the "Shade Tobacco Capital of the World." This complex industry built a community based on work ethic, family values, agricultural acumen, and farm and land management skills. Preserving this heritage and creating engaging visitor experiences is central to the Havana Shade Tobacco Museum's mission. Learn about this outstanding area history and how the museum's preservation and programs led to Smithsonian recognition and over 12,000 visitors to our area this past year.
Join Bill Piotrowski at Goodwood Museum & Gardens as he speaks on "100 Years of Shade Tobacco." This free lecture will be held on April 3rd at Noon in Jubilee Cottage.
For more information please call 850-877-4202 or email goodwood@goodwoodmuseum.org.