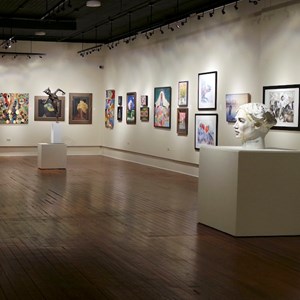 33rd Annual Art in Gadsden
This annual tradition of Gadsden Arts showcases recent art by the area's top artists and artists new to the region. Exhibited works span the mediums of watercolor, egg tempera, acrylic, oil, photography, clay, encaustic, wood, metal, glass, and serigraph. 
The founders of the Art in Gadsden exhibition, Beth Appleton and David Harbaugh, wanted to bring fine art to Gadsden County, foster the careers of local artists, and draw the community together through this special event. Beginning in 1989, Art in Gadsden was displayed in empty downtown storefronts in Quincy, all put together and organized by a dedicated and all volunteer community. This exhibition draws visitors and patrons from across the region each year, and is an exciting opportunity for regional artists to share their work and for Gadsden Arts to celebrate the creativity within our community.