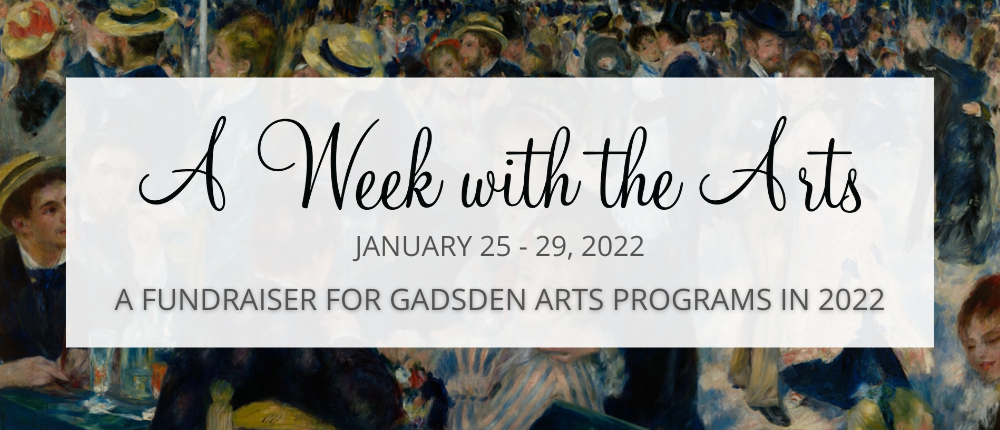 A Week With the Arts!
Celebrating the art of creative living, and the creative talent in our community.
A fundraiser for Gadsden Arts programs in 2022.
Shop Till You Drop Art Auction
January 25 –29, 2022 (online & GACM)
Our auction presents quality work by artists and artisans in our community, on view at Gadsden Arts with bidding online. Most work can be shipped. Proceeds are split 50-50 to support participating artists and Gadsden Arts programs
Presentations
Cheap Chic with Joe Munroe
Tuesday, January 25, 5:30pm (online)
Collecting and decorating on a budget – by a guy with an eye for a good buy! Join Joseph F. Munroe, a 6th generation Floridian, who credits his passion for design to having been raised in beautiful historic Quincy, Florida. Joe graduated from FAMU with a B.S. in architecture and spent over 30 years as an award-winning designer in the metropolitan Washington, D.C. area.
Reborn! with Kelly Pettit & Kira May 
Wednesday, January 26, 2pm (online) 
Kelly and Kira will take a thrift store find to the next level with some simple faux techniques that you can combine with products found at any hardware store to create a masterpiece! Kelly has attended painting workshops across the country. She and daughter Kira develop luxury finishes, custom surfaces, paintings, storefront windows, and more for clients. .
Cocktails with the Curator
Thursday, January 27, 5:30pm (online)

Learn to mix the Curator's cocktail, and hear more about auction art and artists, as we announce our People's Choice Award winners for the auction. 
A World of Camellias with Alexander Hinson
Friday, January 28, 2pm (outdoors in Alex's garden)
Visit Alex Hinson's garden to appreciate the varieties, sizes, shapes, and colors of Camellias. Learn about planting and caring for Camellias, and creative ways to enjoy your flowers! Born and raised in Quincy, Alex is owner of Lines, Hinson, and Lines, Gadsden County's oldest continuing law firm; and has been married to Jane May Curry for 56 years, with three children and three grandchildren.
Finale
Gadsden Arts Game Show & Auction Finale
Saturday, January 29, 5:30pm – 7:00pm
Enjoy a gourmet take-out meal by Black Fig, and a fun online Gadsden Arts Game Show and Auction Finalé. Reservations can be made here.