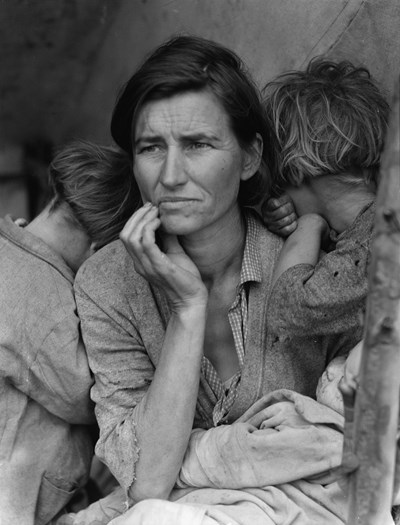 Arts Talk Live! with Tom Friedman
On Thursday, April 28 at 1pm, log on for "Southern Faces and Places," an examination of work by master photographers Dorothea Lange, Walker Evans, and Arthur Rothstein, who captured the harrowing effects of the Great Depression on people in the American South. Artist and retired FAMU professor Tom Friedman will uncover how these artists took part in the largest documentary photography project ever undertaken by the U.S. government. The project, set forth by the Farm Security Administration under F.D.R., yielded more than 80,000 photographs, and helped share the stories of families and workers impacted by economic hardship.
Tom's presentation shares some images that are on display as part of the Masters of American Photography exhibition, organized by the Reading Public Museum, Reading, Pennsylvania. View these historic photographs in the Sara May Love Gallery now through June 25.
Image courtesy Reading Public Museum: Dorothea Lange, Migrant Mother, Nipomo, California, 1936, photogravure, Edition #36/300, Published by Aperture under the auspices of the Dorothea Lange Collection at the Oakland Museum.