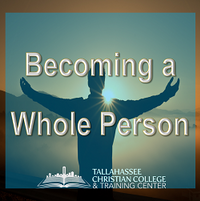 BECOMING A WHOLE PERSON
Instructor: Lowell Jackson, M.A.
How did God design me? What is my primary purpose? What is the effect of the fall? In this course we will see the beautiful balance of three dimensional living; we will learn the practical significance of regeneration; and we learn the different functions of body, soul, spirit, conscience, heart, mind, will, and emotion. Join us as we research the difference between transformation, sanctification, conformation, glorification, regeneration, salvation, and renewing.
(THE 316, CNS 313) 10 wks, Wed. 2/19-4/22, 9:30am-12pm. $139/audit, $250/BA, $290/MA (2 credits &/or 25 CEUs).