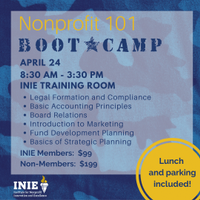 BOOT CAMP l Nonprofit 101
BOOT CAMP: NONPROFIT 101
Audience: Executive Director, Social Entrepreneurs and Start-up Nonprofits
"Thank you so much for the incredibly informative boot camp for nonprofits that I attended last Friday. It was a wealth of information and my head is full of thoughts but mostly I'm enthused to push forward with this new Foundation – so thank you again." –Julz Graham, Florida Skin Cancer Foundation.
Running a nonprofit is hard work. It requires specific skills and expertise to make the organization successful. INIE is here to help you tackle that challenge. Welcome to Nonprofit 101 Bootcamp, designed specifically for those wanting a focused overview of nonprofit operations.
The one-day session includes the following subjects: Formation and Compliance, Accounting and Budgeting and Board Relations, Marketing and Communications, Fund Development Planning and Basics of Strategic Planning.