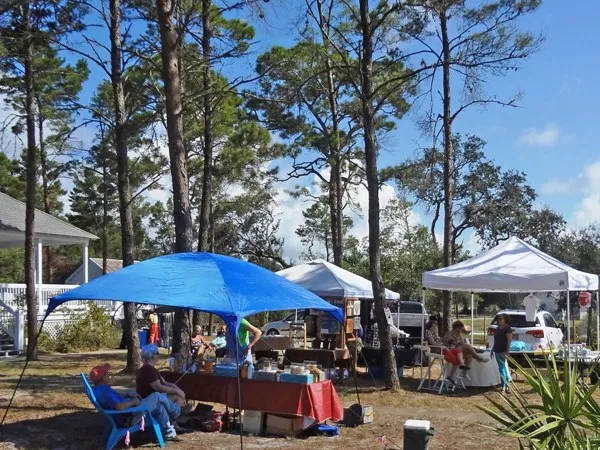 Country Farmer's Market
With the start of the cooler fall weather, it's the perfect time to enjoy this outdoor market at Crooked River Lighthouse Park, 1975 Hwy 98 West, Carrabelle, FL. Crooked River Lighthouse will be hosting the market every 1st and 3rd Saturday every month from 9:00 am-1:00 pm. This open-air market at the foot of the lighthouse features vendors from the community with gorgeous art and photography, craft items, handmade goods, fresh roasted coffee, delicious baked goods, veggies, handcrafted soaps, exotic starter plants, plus unique maritime items inside.
The Market is now actively recruiting new and returning vendors. Vendors may sign up at any time. The cost to be a vendor is FREE for members of the Carrabelle Lighthouse Association and $10 per market for non-members.
The very popular food truck by Kent's Smokin' Sausages will be returning. While guests are browsing the fabulous goods and products of the vendor booths, they can munch on sausage dogs, wings, chicken tenders, grouper, or flounder, and sip on some refreshing strawberry lemonade!  The food truck will be serving from 11:00 am – 4:00 pm.
At 1:00 pm, local herbalist, Denise Williams will take visitors for a guided medicinal plant walk. Denise will lead guests for this 30 minute walk around the grounds of lighthouse and explore its natural resources. The guided walk costs $5 and can accept a max of 10 people.
Guests can also visit the free Museum and browse inside the Lighthouse Gift Shop. In addition, shoppers and visitors have the unique opportunity to climb to the top of the lighthouse for a breathtaking view of the Bay.
For more information, contact Crooked River Lighthouse at 850-697-2732 or carrabellelighthouse@gmail.com. Funded in part by the Franklin County Tourist Development Council.