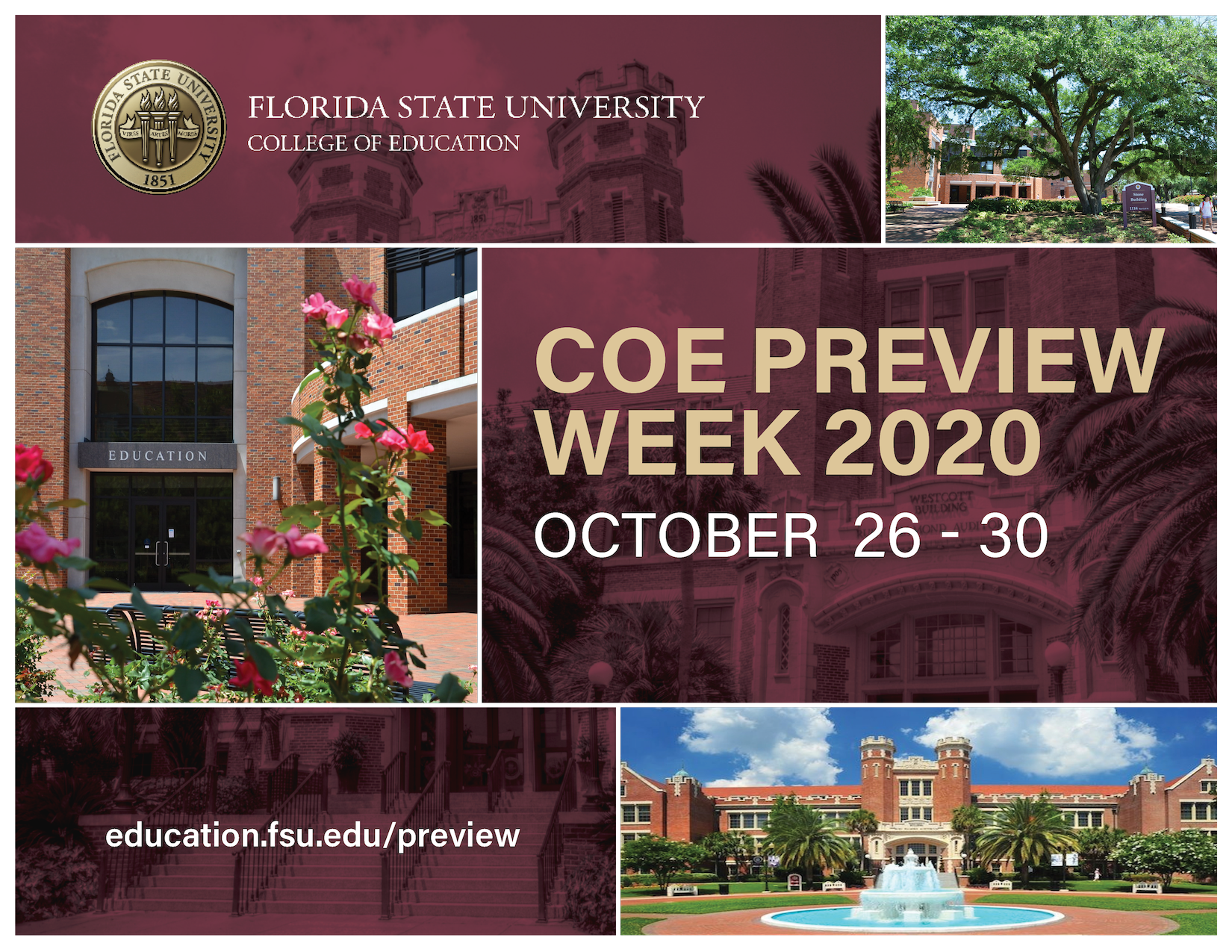 FSU College of Education Preview Week
The FSU College of Education is home to programs that nurture and grow the next generation, whether that's a student in a classroom, an athlete on the field, or a team at major corporations. If your passion has led you to pursue a graduate degree, you've come to the right place. The FSU College of Education will enable you to expand your education with a program tailored to your interests. Our goal is to help you find your path – and your passion – through our student-focused support services and innovation-driven programs.
Join us for our virtual open house events to learn more about our graduate programs and certificate programs in the FSU College of Education! You'll be able to hear from our faculty and admissions staff and ask questions about our programs, campus life, and anything else that comes to mind! You can also take a virtual tour of the Stone building and FSU's campus, learn more about the College of Education, graduate school at FSU, funding, resources for students, and more!
Be sure to register at education.fsu.edu/preview!
Hourly Schedule
Tuesday, 10/27 - Sport Management and Teacher Education
9:00 AM

-

10:00 AM

Department of Sport Management

Learn more about graduate programs in the Department of Sport Management
4:00 PM

-

6:00 PM

School of Teacher Education

Learn more about graduate programs in the School of Teacher Education
Thursday, 10/29 - Educational Psychology & Learning Systems and Educational Leadership & Policy Studies
9:00 AM

-

11:00 AM

Department of Educational Psychology & Learning Systems

Learn more about graduate programs in the Department of Educational Psychology & Learning Systems
4:00 PM

-

5:30 PM

Department of Educational Leadership & Policy Studies

Learn more about graduate programs in the Department of Educational Leadership & Policy Studies