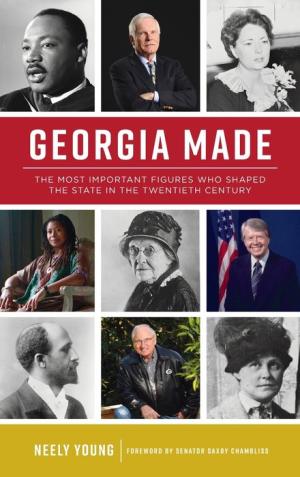 Georgia Made: Author Talk & Book Signing
The Bookshelf and the Thomasville History Center are joining forces to present a special author talk and book signing on Tuesday, November 30 at 7 p.m. featuring author Neely Young and his new book, Georgia Made: The Most Important Figures Who Shaped the State in the Twentieth Century. Trace the journey of notable Georgians as Young features the men and women who "hauled Georgia up from its poor, agrarian roots, making it among the most diversified, prosperous states in the country." 
Young will discuss his new book and sign copies of Georgia Made available for purchase following the presentation. The program will take place at the Thomasville History Center, located at 725 N. Dawson Street. This program is presented free of charge and is open to all. Come a few minutes early and explore the newly renovated exhibits throughout the Thomasville History Center!
Mask-wearing is appreciated for all in attendance at the author talk and signing. Parking is available on Dawson Street. For more information, please contact the Thomasville History Center at 229-226-7664 or The Bookshelf at 229-228-7767. 
About the Author: Neely Young is a native of Cedartown, Georgia, a graduate of the University of Georgia and a proud journalist. In 1968, he joined his family-owned newspaper, the Valdosta Daily Times, working in the photography department. After leaving Valdosta, he worked in various positions, and as both editor and publisher, for Georgia newspapers in Valdosta, Marietta, Canton, Dalton and Clayton County. In 1986, he became CEO of Morris Newspaper Corporation, which owned and operated forty newspapers in six states. He has served as a curator on the Georgia Historical Society and often wrote about historical figures in his columns for Georgia Trend magazine. This book is a continuation of his long-standing interest in Georgia history and historical figures.