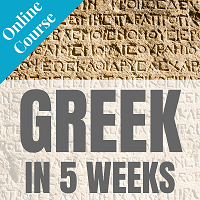 GREEK IN FIVE WEEKS
Instructor: David Hull, M.Div.  
This course is for those who do not expect to take a full-length course in New Testament Greek, are not sure whether they should take one, or want to get a head-start on the basics for the first-year Greek course scheduled to start in a few weeks.  Students new to Greek frequently discover that they do not have a good grasp of basic useful language concepts.  Learning Greek enables one to gain many exciting insights into the meaning of God's Holy Word without depending on someone else.  Learn fundamentals that will help you in an enjoyable, no-pressure environment to gain immediate benefit in your personal Bible study and in lesson and sermon preparation.  You will also learn how to use study tools that do not require the ability to translate from Greek to English. (This course will be presented online only.)                       
(LANG 414) 5wks, Mon. 6/29-7/27, 6-8:30pm. $69/audit, $125/BA, $145/MA (1 credit). Required Text: Essentials of New Testament Greek by Ray Summers, revised by Thomas Sawyer, 1995.