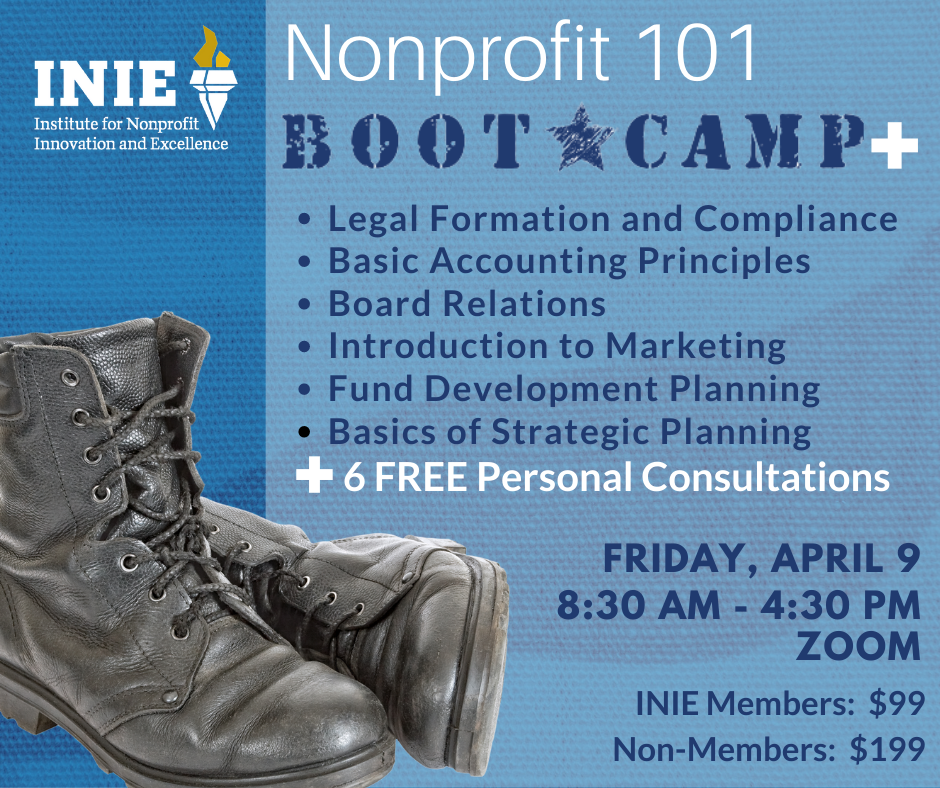 INIE Nonprofit 101 Boot Camp
Running a nonprofit is hard work. It requires specific skills and expertise to make the organization successful. INIE is here to help you tackle that challenge. Welcome to Nonprofit 101 Boot Camp +,  designed specifically for those wanting a focused overview of nonprofit operations.
This knowledge-packed, one-day session will serve as your one-stop-shop for nonprofit operational knowledge, including the following subjects and instructors:
Formation and Compliance – GC Murray
Accounting and Budgeting – Mark Payne, James Moore & Co
Board Relations – Kelly Otte, Oasis Center for Girls
Marketing and Communications – Julia Holly, JH Creative
Fund Development Planning – Christal Cherry, The Board Pro
6 No-Fail Donation Form Tips – Abby Jarvis, Qgiv
Basics of Strategic Planning – Mickey Moore, Moore Business Strategies
And that's not all. Your participation in any Nonprofit Boot Camp + program will guarantee you a private consultation with each subject instructor! That's 6 different opportunities for instruction and private consultation, at the same great low price of just $99 for members, or $199 for non-member. 
And there's more! Enjoy mini-boot camp breaks between each presentation that will get you moving and keep you energized.  But don't delay – participation is limited. 
Register here: https://www.theinstitutefornonprofits.org/index.php?option=com_jevents&task=icalrepeat.detail&evid=1661&Itemid=132&year=2021&month=04&day=29&title=workshop-creating-an-emergency-management-plan-&uid=1f3a359ef655362e688aff8d242ecfc8