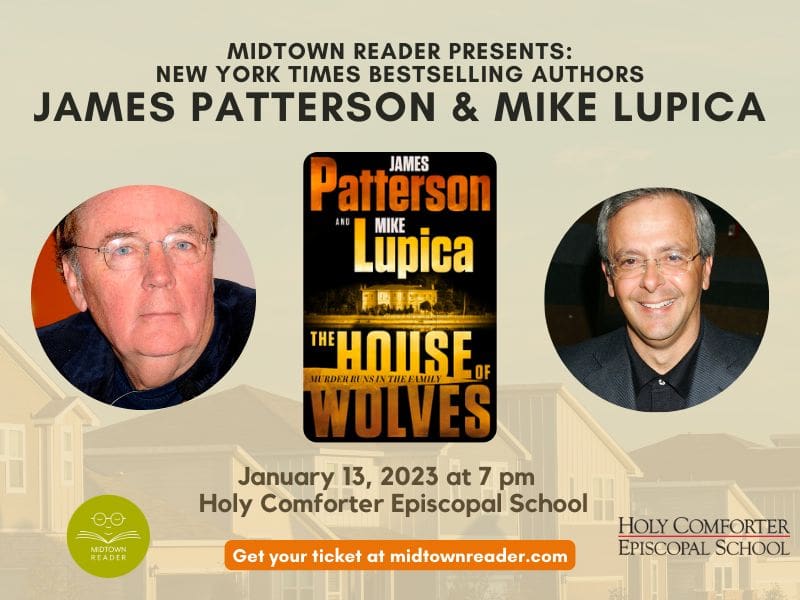 James Patterson and Mike Lupica with THE HOUSE OF WOLVES — TICKETED EVENT
Big news continues at Midtown Reader! We are excited to announce that New York Times bestselling author James Patterson will be returning to our store with NYT bestselling author Mike Lupica with their co-written release, The House of Wolves on January 13th, 2023 from 7pm to 8pm at Holy Comforter Episcopal School.
The House of Wolves centers around The Wolf family, the most powerful sports-scions in California, and their new matriarch: Jenny Wolf. After her father is murdered, Jenny inherits the family fortune – and now runs the San Francisco Tribune, while also controlling the legendary Bay-Area pro football team, the Wolves. She navigates this massive inheritance while also attempting to solve her father's murder. The House of Wolves is a mix of high-stakes family drama reminiscent of the Godfather's Corleones and Yellowstone's Duttons.
Tickets are on sale now and include a signed copy of their new release, The House of Wolves! Tickets are required for entry.
About the Author – James Patterson:
James Patterson is the world's bestselling author. His enduring fictional characters and series include Alex Cross, the Women's Murder Club, Michael Bennet, Maximum Ride, Middle School, and Ali Cross, along with acclaimed works of narrative nonfiction like E.R. Nurses, and his autobiography, James Patterson by James Patterson. For his prodigious imagination and championship of literacy in America, Patterson was awarded the 2019 National Humanities Medal. The National Book Foundation presented him with the Literarian Award for Outstanding Service to the American Literary Community, and he is also the recipient of an Edgar Award and nine Emmy awards. He resides in Florida with his family.
About the Author – Mike Lupica:
Mike Lupica is one of the most prominent sports writers in America. He began his newspaper career covering the New York Knicks for the New York Post at age 23. Today, he is a syndicated columnist for the New York Daily News, which includes his popular "Shooting from the Lip" column, which appears every Sunday. He has received numerous honors, including the 2003 Jim Murray Award from the National Football Foundation. Mike, his wife, and four children reside in Connecticut.
URLs:
Tickets: https://go.evvnt.com/1410871-0?pid=10461
Website: https://go.evvnt.com/1410871-2?pid=10461
Category: Arts | Books and Literature | Book Signings