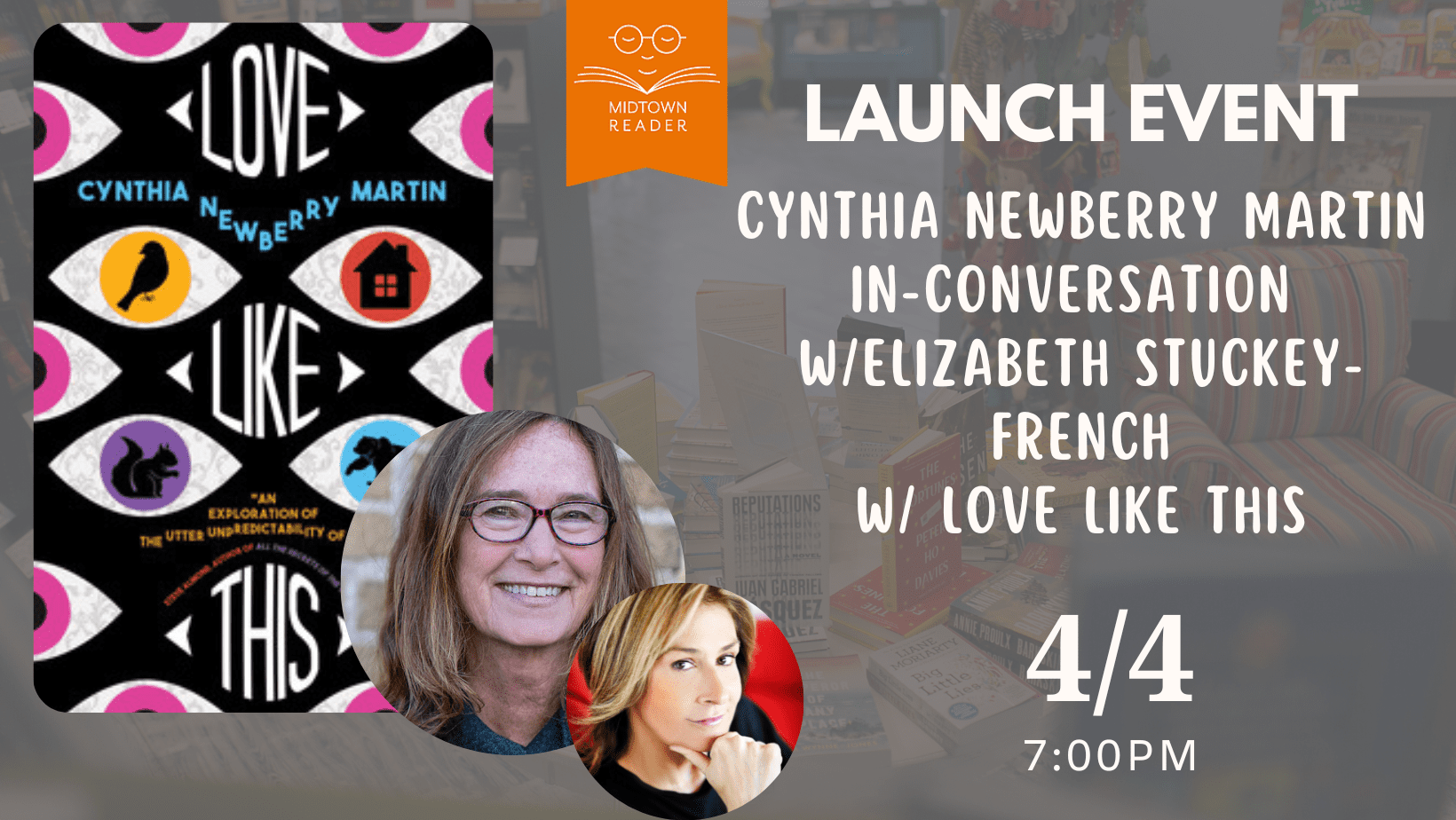 LAUNCH EVENT: Cynthia Newberry Martin in-conversation w/ Elizabeth Stuckey-French w/ LOVE LIKE THIS
Join Cynthia Newberry Martin and Elizabeth Stuckey-French for a conversation about Cynthia's newest release Love Like This!
About the book:
For the first time in a lifetime, Angelina and Will can choose again. After twenty-two years with children at home, she has no idea what she wants and is counting on the empty house to figure it out. But he already knows—he wants her, all to himself. Nine days into their child-free life, he quits his job and announces he's home to stay. So Angelina announces she's returning to nursing, this time in home health care. In his new basement workroom, Will enjoys making boxes, but the quiet house sends him in search of music, where he meets Stella who reveals more than the magic of iPods. Meanwhile, Angelina's first patient is an unpredictable woman named Lucy who reveals a particular magic of her own, as does her billboard-painting son John Milton. As Angelina and Will's life together becomes increasingly tense and their days apart become increasingly comfortable, it looks like Will may be the one to get the empty house. Love Like This drops you inside a long-term marriage, where you'll be screaming either stay or go—as you weigh the value of sticking with the familiar versus the value of venturing into the unknown.
About Cynthia:
Cynthia Newberry Martin's first novel, Tidal Flats, won the Gold Medal in Literary Fiction at the 2020 Independent Publisher Book Awards and the 14th Annual National Indie Excellence Award for Fiction. Her website features the How We Spend Our Days series, over a decade of essays by writers on their lives. She grew up in Atlanta and now lives in Columbus, Georgia, with her husband, and in Provincetown, Massachusetts, in a little house by the water. Her third novel, The Art of Her Life, will be published in June of 2023.      
About Elizabeth:
Elizabeth Stuckey-French is the author of two novels, The Revenge of the Radioactive Lady and Mermaids on the Moon, as well as a collection of short stories, The First Paper Girl in Red Oak, Iowa. She is a co-author, along with Janet Burroway and Ned Stuckey-French, of Writing Fiction: A Guide to the Narrative Craft. Her short stories have appeared in The Normal School, Narrative Magazine, The Atlantic Monthly, Gettysburg Review, Southern Review, Five Points, and The O'Henry Prize Stories 2005. She was awarded a James Michener Fellowship and has won grants from the Howard Foundation, the Indiana Arts Foundation, and the Florida Arts Foundation. She teaches fiction writing at Florida State University.