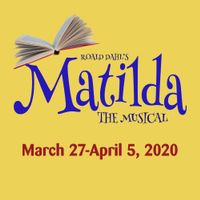 Matilda: The Musical
Young Actors Theatre continues to provide quality theatre to Tallahassee and the surrounding communities with the Tallahassee Premiere of Matilda The Musical March 27-April 5. Based on the book by Roald Dahl (Charlie and the Chocolate Factory, The BFG), Matilda The Musical tells the story of an extraordinary girl who, armed with a sharp mind and a vivid imagination, dares to take a stand and change her destiny. She impresses her schoolteacher, Miss Honey, who helps her cope with her bullying parents. The two have a profound effect on each other's lives, as Miss Honey begins to appreciate Matilda's extraordinary personality. Matilda's school life isn't completely smooth sailing– the headmistress, Miss Trunchbull, is not fond of children and loves thinking up new punishments for rule breakers. But Matilda has courage and cleverness in equal amounts, and could be the pupils' saving grace! Packed with high-energy dance numbers and catchy songs you don't want to miss this musical.
Young Actors Theatre is located at 609 Glenview Drive; Tallahassee, FL, in the heart of Midtown Tallahassee.
This show is sponsored by McGuireWoods Consulting.
Performances: Friday, March 27 at 7:30pm; Saturday, March 28 at 7:30pm; Sunday, March 29 at 2:00pm; Thursday, April 2 at 7:30pm; Friday, April 3 at 7:30pm; Saturday, April 4 at 7:30pm and Sunday, April 5 at 2:00pm and 7:00pm.
Tickets are $14 for children (12 and under); $16 for students; $18 for seniors and $20 for adult. Tickets can be reserved on line (www.youngactorstheatre.com) beginning Saturday, March 21. Beginning Monday, March 23, the Box Office will be open Monday, Tuesday and Friday from 9:30am to 12:00 noon for phone and walk up orders.
Young Actors Theatre, one of the oldest independent youth theatre programs in the country, is celebrating its 44th consecutive year of training and production. It is the mission of Young Actors Theatre to expose, educate and enlighten the diverse community of greater Tallahassee and the region of North Florida through live theatre.