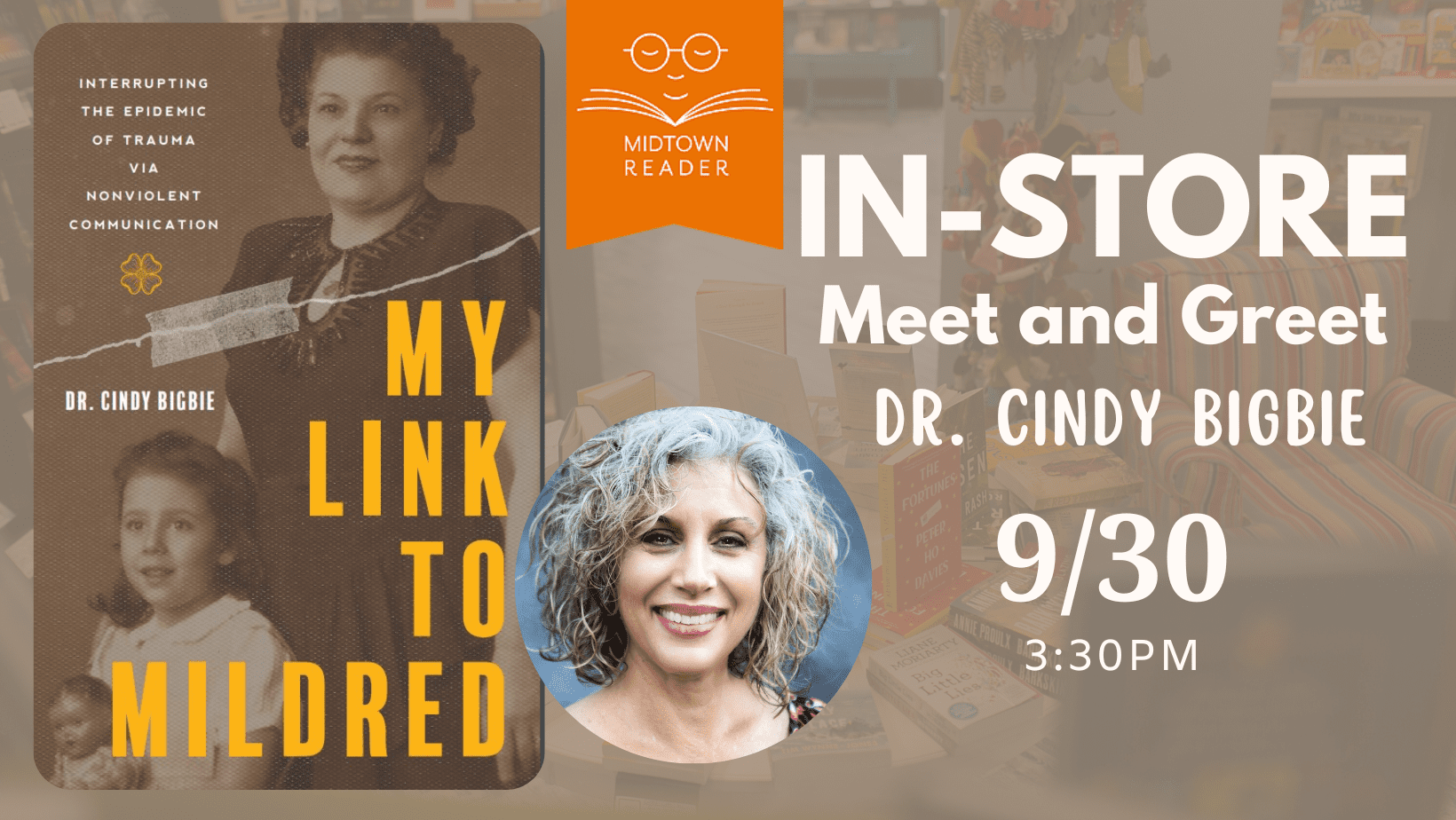 Meet and Greet: Dr. Cindy Bigbie w/ MY LINK TO MILDRED
Stop by Midtown Reader to have your copy of My Link to Mildred signed by author Dr. Cindy Bigbie.
About the Book:
The trauma in your life didn't start with you, but you have the power to end it.
Dr. Cindy Bigbie is a communications specialist with a mission to turn the tide on trauma and violence. In My Link to Mildred, Dr. Bigbie reveals her own family's historical trauma, how it led to her work with Nonviolent Communication (NVC), and her belief in NVC's potential to make a more peaceful world.
My Link to Mildred is an intensely personal story about how trauma plagues generations and how NVC was integral in interrupting the trauma patterns passed down over time. This story of hope and possibility includes real-world application and information about NVC. Discover the connections between trauma, brain research, and violence. Explore how NVC has the potential to reverse our national trauma epidemic and foster the healing we need in work, schools, and homes.
About the Author:
The Bigbie Method was developed by "Dr. B," aka "America's Communications Coach." Dr. B is a sought-after NVC (Nonviolent Communications) and Empathy practitioner, trainer and speaker with years of successful experience working with incarcerated youth. She is also a champion of Restorative Practices, and in 2019 won the Dennis Maloney Award for Youth-Based Community and Restorative Justice Programs.
For 25 years, thanks to her Ph.D. in Instructional Design, she traveled the United States and evaluated hundreds of different educational programs. She saw millions of dollars in grant money being used to support these programs in an attempt to advance our educational systems with little long-term results. And time and time again, she returned to the conclusion that our educational system is not advancing because we are overlooking the social-emotional component that is at the base of all. As a result, she has dedicated her career to bringing restorative practices, empathetic communication, and Nonviolent Communication (NVC) to all segments of society. 
And now she's compiled her 25+ years of institutional teaching experience into an award-winning approach that you can have access to anywhere. Additionally, Dr. B's recently published book, part memoir, part teaching tool, provides great lessons on NVC, the process and its link to trauma. Check out My Link to Mildred – Interrupting the Epidemic of Trauma via Nonviolent Communication.