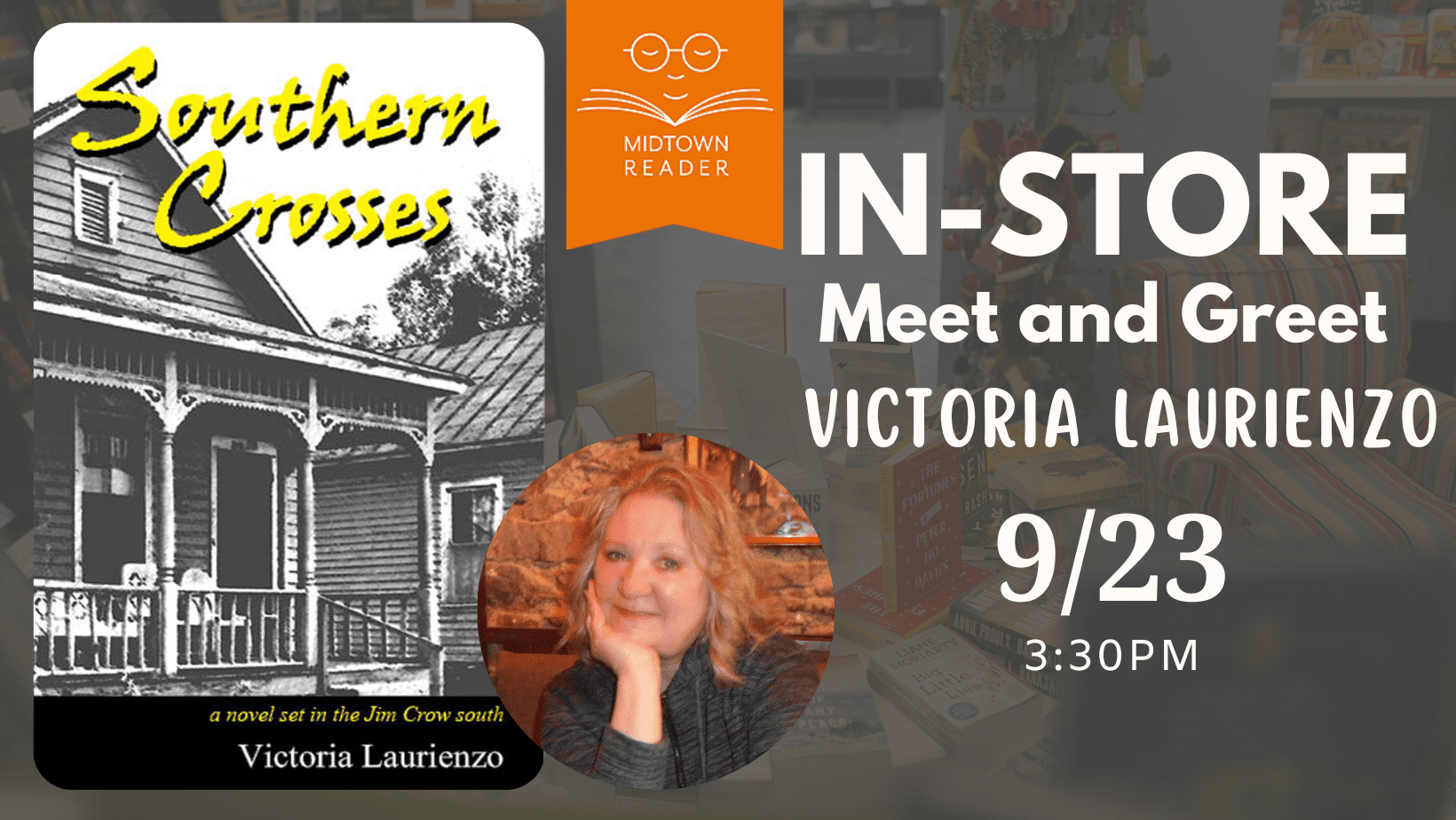 Meet and Greet: Victoria Laurienzo w/ SOUTHERN CROSSES
Stop by Midtown Reader and get your copy of Southern Crosses signed by author Victoria Laurienzo.
About the Book:
Southern Crosses is set in 1950s Tallahassee. The main character, Toolie, is biracial and suffers for it. She is a talented singer and believes her singing will be her way out. But fate has other plans, as she is thrown one curveball after another. 
She goes to work for a wealthy white man who has a daughter, Hedy, an independent-minded girl with whom Toolie feels a strong connection, and the two become close friends. 
After swearing off romance following a painful betrayal, Toolie falls hard for a mysterious man who comes to the club to hear her sing. Just when she lets down her guard, she feels betrayed again when she spies him in town with a family. 
Two FAMU co-eds decide to sit in the front of the city bus, and the Tallahassee Bus Boycott ensues. Toolie participates in the peaceful protests, and is severely injured when she takes a rubber bullet to the abdomen, leaving her unable to ever have children.
Toolie has always wondered about her parentage, but her family is mum on the subject. When the terrible secrets surrounding her birth finally come to light, Toolie's life is changed forever.
About the Author:
Although Victoria was born in Texas, she has lived in Florida long enough to consider herself a naturalized Floridian. Victoria always loved to read. She has early memories of devouring Nancy Drew mysteries and getting in trouble for reading through the night. She earned a degree in English Education, but never taught.
Victoria was also interested in art and went back to study graphic arts, and this was the field she worked in for many years. However, music was her first love. After leading her church choir for 20+ years, Victoria lost her voice due to necessary medicine and had to give it up.
Needing another creative outlet, Victoria turned to writing. It was something she always thought she'd get around to eventually. Victoria managed to finish her first novel somehow while still working. She retired a year ago and wrote her second book, Southern Crosses.
She also likes to paint, make jewelry, and travel, especially to Ireland. Victoria lives with her husband, brother-in-law, and a cat. Victoria and her husband have three grown children between them, and eight grandsons.