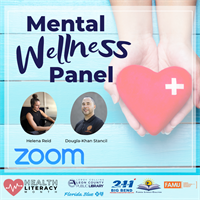 Mental Wellness
Leon County Public Library presents a a mental health expert panel that will answer questions you have about mental wellness and offer tips and resources on mental wellness.
Online through Zoom: More Information
Dougla-Khan Stancil works as a Mental Health Therapist in the Office of Counseling Services at Florida A & M University (FAMU). Mr. Stancil serves as the Coordinator of Substance Abuse Services and engages students in individual, couples, and group therapy. In his 12 years of working at the university, Mr. Stancil has also co-facilitated both personal development and violence prevention programs targeting the male student population. Prior to joining the FAMU Counseling Center, Mr. Stancil served as a therapist and case manager for children and adults at Apalachee Center, Inc.
Mr. Stancil is passionate about increasing the health and well-being of the clients and students he encounters. He has 21 years of experience in the Counseling field. Mr. Stancil holds a Master of Education degree and a bachelor's degree in Psychology from FAMU. Mr. Stancil is a licensed mental health counselor, as well as a master level Certified Addiction Professional (MCAP).
Helena Reid just earned her master's degree in social work from FSU. She has worked as a hotline counselor at 2-1-1 Big Bend for over 3 years now, which led her to pursue her degree in social work. She is ASIST (suicide prevention) and AIRS (information and referral) certified and loves her position at 2-1-1.