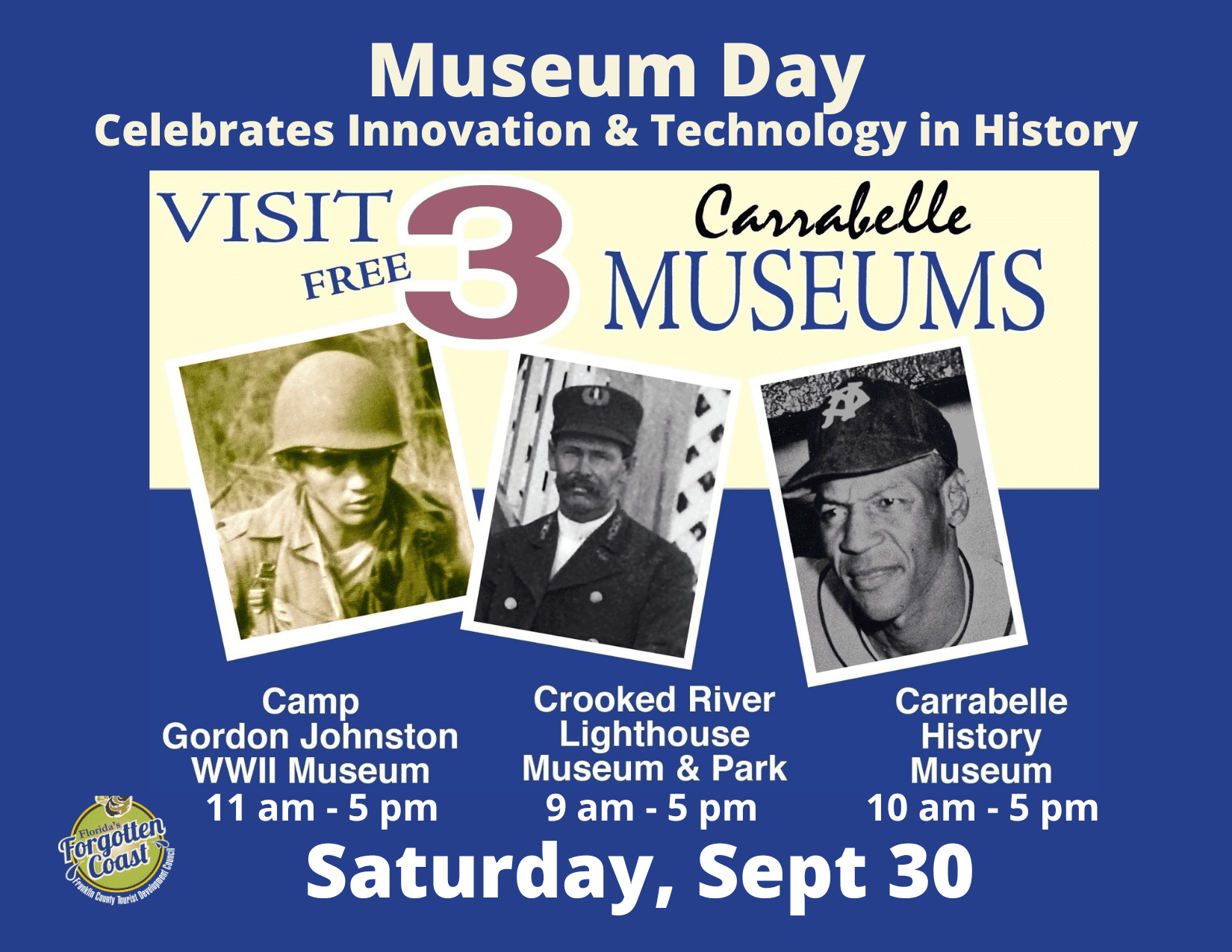 Museum Day in Carrabelle
ALL THREE CARRABELLE MUSEUMS JOIN TOGETHER FOR MUSEUM DAY
 Carrabelle's three museums will open their doors free of charge on Saturday, September 30, 2023 as part of the annual Museum Day celebration. In honor of this day, Camp Gordon Johnston WWII Museum, Carrabelle History Museum, and Crooked River Lighthouse Museum invite you to Carrabelle FL for special activities and exhibits. Camp Gordon Johnston Museum will be open from 11 am – 5 pm. Carrabelle History Museum will be open from 10 am – 5 pm. Crooked River Lighthouse will be open from 9 am – 5 pm for this event. Guests can also enjoy the Country Farmer's Market from 9 am-1 pm at Crooked River Lighthouse Park with local crafts, baked goods and area produce.
Each year, Museum Day goes beyond getting visitors through museum doors; it shines a spotlight on incredible culture, sciences, innovation and history exhibits. This year Carrabelle is celebrating the theme, "Innovation and Technology in History" and each of Carrabelle's three history museums will each commemorate it with their own unique focus and interpretation.
Camp Gordon Johnston Museum will feature newly discovered sunken vessels from the Battle of Midway that recent technological advances have made possible as well as some of the technology used during WWII. They will also have their vintage military vehicles on display. Carrabelle History Museum will highlight the prehistoric tools from our area's native peoples, innovations in turpentine including the Herty pot, sponge diving technology, and advancements in shipbuilding from the late 1800s. Crooked River Lighthouse will focus on part of their new Fresnel lens exhibit to include Augustin Fresnel's development of a superior light bending apparatus which vastly improved the efficiency of lighthouse lamps, early inventors in light science, the evolution of fuels, and signaling innovations. Funded in part by the Franklin County Tourist Development Council.
INFORMATION ON THE MUSEUMS
Camp Gordon Johnston WWII Museum – Honors the military men and women as well as civilian personnel who trained and worked in Carrabelle and Franklin County during 1942 through 1946. The museum houses numerous displays of military artifacts, photos and memorabilia of many types. Plus the Motor Pool building displays the museum's military vehicles on site – WWII DUKW, German Lieferwagen, and WWII Jeep. Camp Gordon Johnston WWII Museum is located at 1873 Highway 98 West, directly across from Carrabelle Beach where military troops practiced D-Day beach assaults. Saturday hours 11 am-5 pm. www.campgordonjohnston.com/
Carrabelle History Museum – Features local artifacts and exhibits including Carrabelle's Native American people, the Steamship "Tarpon", the original "World's Smallest Police Station", Carrabelle industry and culture (seafood, lumber and more) and families from the pioneer days to the present. Carrabelle History Museum is located at 106 SE Avenue B, Carrabelle, FL. Saturday hours 10 am-5 pm. www.carrabellehistorymuseum.org 
Crooked River Lighthouse – The history and the science of the lighthouse are displayed through interesting exhibits, including a historical setting of the early 1900's, various lighthouse beacons, the methods of constructing a skeletal tower lighthouse, plus the lighthouse's original 1895 Fresnel lens! Also on display are the original Keeper's House clock, a barometer, an antique glass fire grenade, and more. Crooked River Lighthouse is located at 1975 Hwy 98 West, Carrabelle. Saturday hours 9 am-5 pm. www.crookedriverlighthouse.com