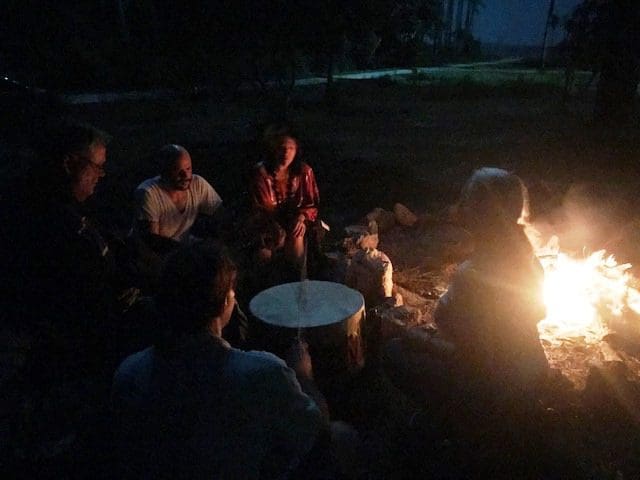 Native American Drum Ceremony and Full Moon Event at Crooked River Lighthouse
The Crooked River Lighthouse will be hosting a Full Moon Event and Sacred Drum Ceremony on Friday, September 29, from 8-10 pm in Carrabelle, FL.  Visitors can enjoy this opportunity to see the gorgeous natural surroundings of the St. George Sound and Carrabelle Beach under the glow of the full Harvest Moon or Corn Moon.  Paul Eagleheart McGee from the Lipan Apache Tribe will be conducting a Native American drum ceremony during the event.
In honor of the Harvest or Corn Moon, the lighthouse will be hosting an informal drumming circle during this event. Anyone that has a drum is welcome to bring it and join in. The Harvest Moon is the full moon nearest the start of fall or the autumnal equinox. This full moon name is attributed to Native Americans because it marked when corn and other crops were harvested.
In addition to the informal drum circle, Paul Eagleheart McGee from the Lipan Apache Tribe of Texas will be joining this event. He will be doing a sacred, Native American drum ceremony in honor of the full moon. Paul Eagleheart McGee has done many ceremonies for causes including protection of sacred sites. He will begin the ceremony with a prayer song and will be explaining several Native American traditions.
Visitors can also have an after-hours visit of the Keeper's House Museum and see the new exhibit for the lighthouse's original, historic Fresnel lens. Guests may also enjoy the glowing bonfire in the park (weather permitting). Bring a chair and enjoy the evening. Recommended donation for this event is $5 to support the lighthouse and help offset the additional costs for these after-hours events and can be made either via https://www.crookedriverlighthouse.com/full-moon-events/ or at "the gate".
While at the Full Moon event, evening climbs are also available for those brave souls who are bold enough to venture to the top of the tallest Forgotten Coast lighthouse. Climbers will be rewarded with breathtaking views of the bay. Evening climbs cost $10 for adults (age 13+), $5 for youth (6-12 yrs) and are free for those 5 and under.  All climbers must be at least 44 inches tall. Timed tower climb tickets are required for those who wish to climb the lighthouse tower during this event. Timed tickets are available at https://www.crookedriverlighthouse.com/full-moon-events/  or by dropping by our gift shop. Advance ticket purchase is strongly suggested as these tickets may sell out. 
A limited number of climbers (max of 8) are allowed at one time. There will be a time limit for viewing from the top. Guests who would like a more leisurely climbing experience are welcome to enjoy one of the daytime climbs available every Wednesday through Sunday. Masks are welcome but not required. 
Crooked River Lighthouse is located in Carrabelle, just west of the Carrabelle Public Beach Park at 1975 Hwy 98 W, Carrabelle. For more information, contact the gift shop at 850-697-2732, carrabellelighthouse@gmail.com or https://www.crookedriverlighthouse.com/. Funded in part by the Franklin County Tourist Development Council.