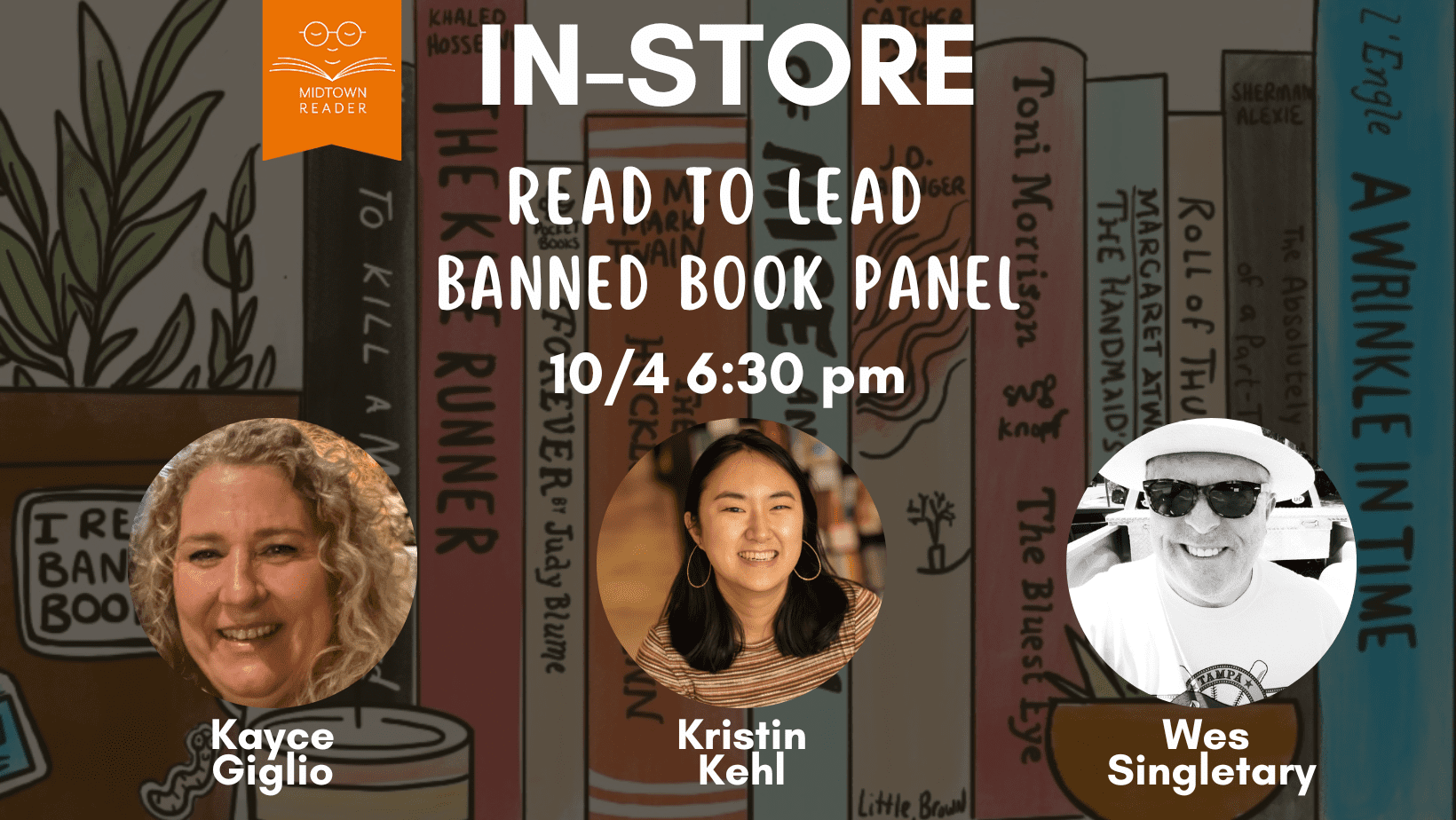 Read to Lead: Banned Book Panel
Banned books hold a crucial place in our lives as they often challenge prevailing norms and ideas, prompting readers to question their beliefs and expand their perspectives. The act of banning a book can inadvertently draw attention to its content, sparking discussions and debates that might not have occurred otherwise. The impact of banned books lies in their ability to ignite conversations, foster critical thinking, and champion the freedom of expressions, highlighting the importance of preserving diverse voices in literature. 
Read to Lead is a series where we ask leaders from our community to discuss what books have shaped them into who they are today. This panel will focus on discussing banned books and the impact they have on our panelists. Midtown Reader is a community staple that is dedicated to creating an inclusive meeting ground for readers of all backgrounds to Read, Think, and Share together. 
Our panelists for this event are:
Kayce Giglio:
Kayce is a native Floridian and a lifelong resident of Tallahassee. She has been married for 29 years to her husband, Chris, and they have three adult sons.
Kayce holds a Specialist degree in Educational Leadership and Policy from Florida State University, as well as a Masters and Bachelors degree in Special Education from Florida State University. 
She has taught at Belle Vue Middle School, John Paul II High School, Monford Middle School, Kate Sullivan Elementary School, and Leon High School (her Alma Mater). Kayce has been on the faculty at Leon High School for 11 years, where she has taught English and currently serves as the Literacy Coach.
In her free time, Kayce loves to read, spend time with family and friends, and explore the surrounding area with her husband.
She has read many banned books, and it is hard for her to choose which to have on hand. To Kill a Mockingbird by Harper Lee, Their Eyes Were Watching God by Zora Neal Hurston, and The Kite Runner by Khaled Hosseini are ones that Kayce thinks would be good to have on hand.
Wes Singletary:
Wes Singletary is the author of three books of non-fiction: The Right Time: John Henry "Pop" Lloyd and Black Baseball; Al Lopez: The Life of Baseball's El Senor; and Florida's First Big League Baseball Players: A Narrative. He is also a contributing author on The Pride of Smoketown: The 1935 Pittsburgh Crawfords. His first novel, Big Guava, was recently released by the Ruskin Workshop under a pen name, Doc Charles. Wes earned a Ph.D. in history from Florida State University and currently teaches AP United States History. He also serves as an adjunct history professor at Tallahassee Community College. Wes is married to the former Toni Zarate, and they have two adult children, Patricia and Nelson. A proud native of Tampa, Wes and his family live in Tallahassee, Florida.
Moderator:
Kristin Kehl:
Kristin Kehl is the Manager of Midtown Reader, a poet who says some delightfully unpoetic things, and an extremely (un)reliable narrator. She is also an FSU English alum, a Periplus Collective fellow, and a recovering barista. She devours many books, but is most known for books with some messy, queer chaos.