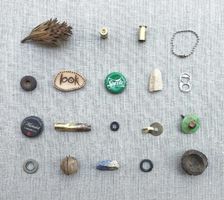 Reimagining Jewelry
Do you have something old, something blue, and want to create something new? No, this isn't a wedding. It is a jewelry workshop! Create beautiful jewelry from found objects or costume jewelry. Bust out the beads, pet rocks, glass, and wire. Your jewelry will be the talk of your friends! Create beautiful keepsakes and be environmentally friendly.
This class will be taught by Joella McGoogan from the Florida Society of Goldsmiths. Tools are provided. Use provided materials or bring your own!
Reimagining Jewelry will be on Sunday, April 19th from 1 – 3:30 PM. Tickets will be $40 and can be found at: https://www.eventbrite.com/e/94703078457. For more information, please contact goodwood@goodwoodmuseum.org or call 850-877-4202.