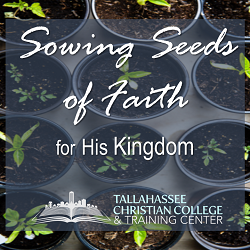 Sowing seeds for His Kingdom
Instructor: B.J. Jarmon, Ph.D.          
Do you want to become more Christ-focused and learn effective ways to share your faith?  In this seminar we will see how God's Word can assist us in self-exploration and sharing our testimony. Join us as we learn how planting faith seeds can help us be better disciples and turn our daily lives into ministry as we become more dedicated followers of Jesus Christ.         
(MIN/MIS 304) Sat. 4/4, 9:30am-4:30pm. $59 (.5 credit) Lunch included.