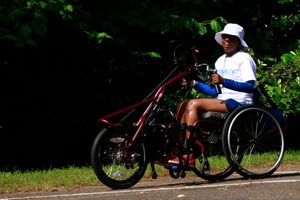 SportsAbility
"People with and without disabilities learn about diversity and inclusion at SportsAbility because everyone participates together, benefits from active leisure together and has fun together. Experts in adaptive recreation will be in Tallahassee providing everything from accessible boat rides to sit water-skiing, horseback riding and much more," stated Florida Disabled Outdoors Association Executive Director Laurie LoRe-Gussak.
SportsAbility Events include:
SportsAbility kicks off with the Seminole Showdown where FSU athletes play baseball against athletes of all abilities. FSU Cheerleaders will be face painting and the FSU Seminole Sound will provide entertainment at the Miracle Field in Messer Park on Thursday, April 2nd from 6:00-8:00 pm.
On Friday, April 3rd at TCC's Lifetime Sports Complex welcomes inclusive indoor activities for people of all abilities, such as para-badminton, martial arts, target sports, basketball and more. The Resource Expo from 10:00 am – 2:00 pm gives people the ability to ask questions, receive information, and learn about the latest in products and local services. Participants will be able to try virtual outdoor experiences.
Saturday, April 4th showcases activities at Alfred B. Maclay State Park include rock wall climbing, sit water-skiing, kayaking, sailing, archery, SCUBA, nature trail rides, pontoon boat rides and much more from 10:00 am – 3:00 pm. A free shuttle provided by Big Bend Transit from the CK Steele Plaza in Tallahassee departs at 9:00 am and 10:00 am and will return at 3:00 pm and 4:00 pm.
SportsAbility utilizes hands-on training to help people with disabilities to become more comfortable and confident in getting out and being active. The entire community is encouraged to come out and see what is possible. There are absolutely no boundaries too great to overcome. The program is completely free for participants!
SportsAbility is the premier program of the Florida Disabled Outdoors Association (FDOA). This program is funded through partnerships and relies on the support of FDOA sponsors, some of which include: Disabled Sports USA, Florida Department of Health, Tallahassee Community College, Florida Fish and Wildlife Foundation, Students Working Against Tobacco, Able United, Visit Florida, Kiwanis of the Big Bend, Leon County Tourist Development Council and many more. FDOA thanks its sponsors for their involvement and generosity.