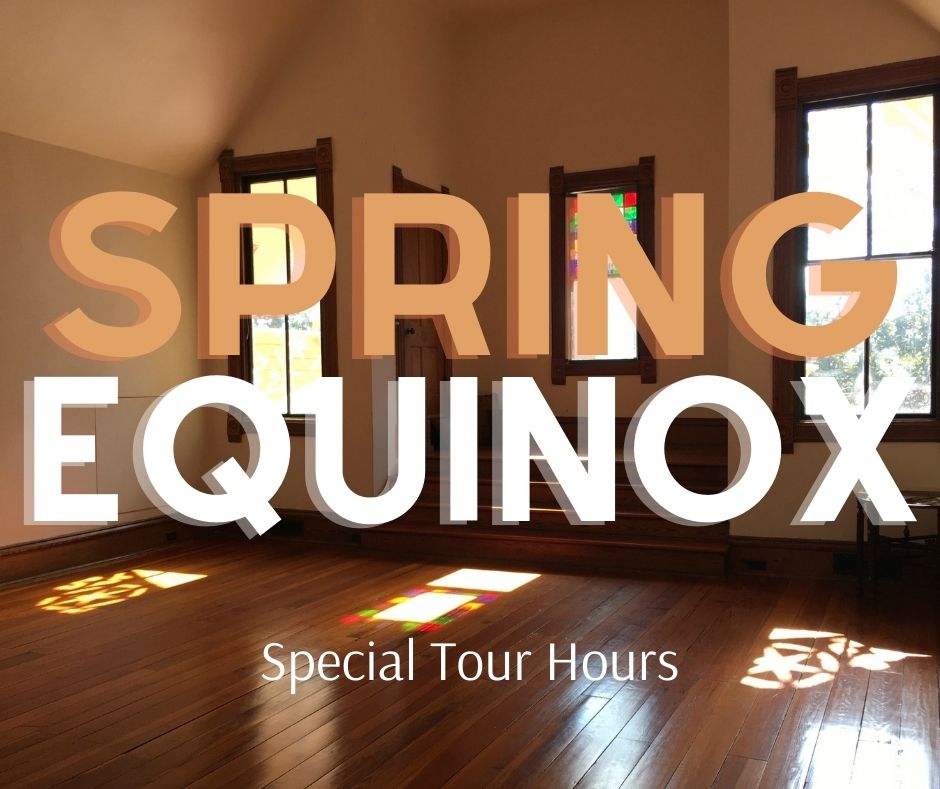 Spring Equinox Tours at the Lapham-Patterson House
Each year on the vernal equinox, observers on the Lapham-Patterson House's third floor can see an unusual play of light and shadow. Last year, we had to cancel our annual celebration of this effect but we're back this year with special tour hours to maximize your viewing of the effect chances and keep you safe. The damaged woodwork on the bargeboard has also been replaced so the "effect" should be in full glory (weather depending).  
Equinox Tours: March 19, 4pm & 5pm; March 20, 4pm & 5pm  
Each tour will include a guided tour of the first floor of the House and ample time to independently explore the 2nd and 3rd floors, including time to view the light and shadows. Masks are required and regular admission rates apply. There will be a brief time when both tour groups overlap but we will do our best to ensure the maximum flow of air on the 3rd floor.  
We will have a maximum capacity of 10 people per hour. Reservations are required. Remember, members receive free admission to the Lapham-Patterson House. Visit our website or give us a call to make reservations. Payment will be accepted upon arrival. If you sign up and cannot attend, please let us know as soon as possible so that we may offer the opportunity to other interested guests. Should the need arise, we will create a waiting list. Sign up online at thomasvillehistory.org.  
Make History: Spring Equinox Kits  
Get ready for a special edition of our Make History Kits in honor of the Equinox! Craft a stained "glass" window inspired by the ones in the Lapham-Patterson House. Kits are $5 and will be available starting March 15. A limited quantity will be available to purchase at the event.  
Other Ways to Celebrate: Instructions for this craft and a bonus Equinox activity are available to download for free at thomasvillehistory.org/athome.  
Tour Sign Ups: 
3/19: https://www.signupgenius.com/go/10c0c4ea8a82da4f9c70-spring  
3.20: https://www.signupgenius.com/go/10c0c4ea8a82da4f9c70-spring1