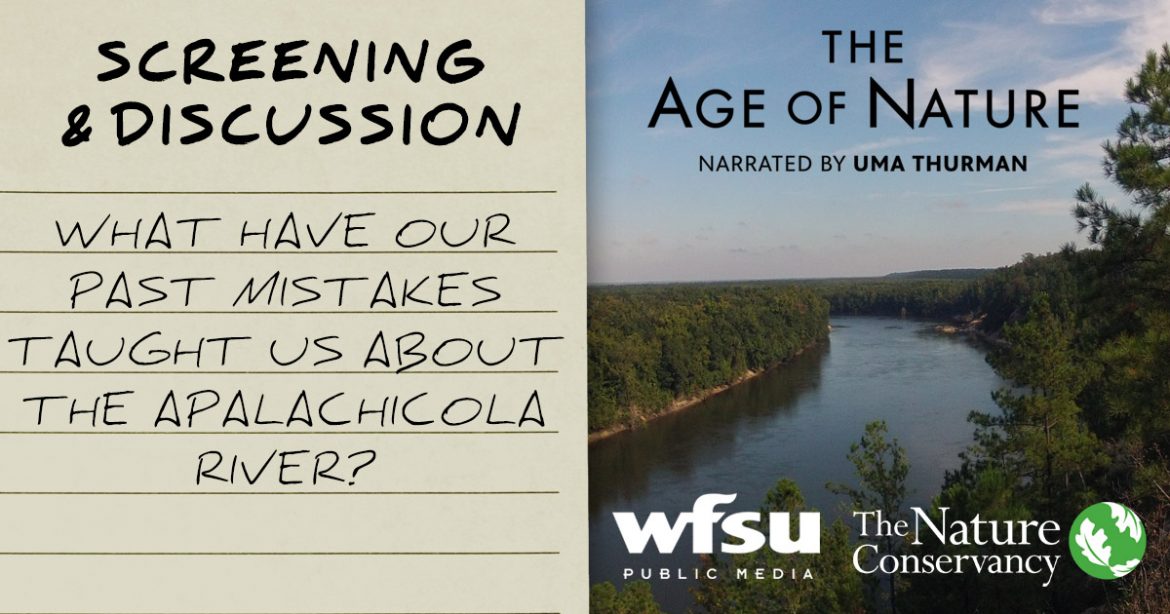 Virtual Event: The Age of Nature Screening & Discussion | The Future of the Apalachicola
Join WFSU Public Media, The Nature Conservancy in Florida, Apalachicola Riverkeeper, and Florida Native Plant Society as we preview PBS's series Age of Nature and discuss the show's themes as they pertain to the North Florida region.
We will Explore
What have our past mistakes taught us about nature?

How is our understanding of nature changing the way we live?

How are intact forests, rivers, and wetlands throughout our region important in our daily lives?

As the challenges we face mount, where are we heading next?

Register to participate live on Tuesday, October 20, 2020 at 7:00 p.m. ET
https://fsu.zoom.us/meeting/register/tJcuc-qrqzkvGNZBaTVGeptFeV_UbW13Jbh-
Meet our Panel
Temperince Morgan Executive Director, The Nature Conservancy in Florida
Brian Pelc Restoration Project Manager, The Nature Conservancy in Florida
Georgia Ackerman Apalachicola Riverkeeper and Executive Director
Doug Alderson Outreach and Advocacy Director, Apalachicola Riverkeeper
Lilly Anderson-Messec Torreya Keepers Project Director, Florida Native Plant Society Magnolia Chapter President
Susan Cerulean Author, I Have Been Assigned the Single Bird, a Daughter's Memoir
Rob Diaz de Villegas WFSU Ecology Blog Producer