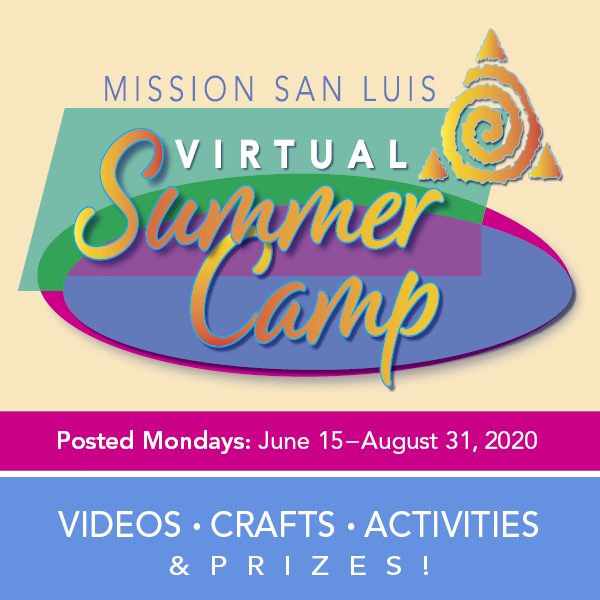 Virtual Summer Camp with Mission San Luis
Be a Virtual Time Traveler This Summer!
Mission San Luis is pleased to offer FREE ONLINE Summer Camp experiences June 15 through August 31, 2020!
Every Monday a new Time Travel Quest will be posted on our website.
• VIRTUAL TIME PORTAL VIDEOS
— Our costumed "villagers" discussing a variety of topics
• FUN CRAFTS & ACTIVITIES
— Some free materials will be provided for pick up!
• A NEW 17TH-CENTURY THEME EACH MONTH
— Foodways | Trade & Travel | Architecture
• P R I Z E S
— Complete at least 4 of the 12 quests throughout the summer!
How to Participate:
1) Download your Virtual Time Traveler Checklist to get started!
— https://missionsanluis.org/media/1742/virtual-time-traveler-checklist-2020_2ue.pdf
2) Each week, download your Time Travel Quest pdf and have fun!*
— https://missionsanluis.org/learn/virtual-summer-camp/
3) Complete and send in your Virtual Time Traveler Checklist by September 14, 2020 to get your prize!
— Make sure to download your pdf forms before completing and saving them!
*Note: Quests can be completed any time after they have been posted.