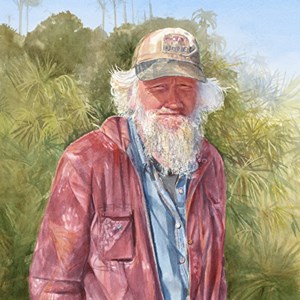 William McKeown: Pondering the Panhandle
William McKeown: Pondering the Panhandle
April 8 – June 25, 2022
Gadsden Arts is pleased to exhibit work by William Hugh "Bill" McKeown, a fifth-generation North Floridian who has a high regard for the people and places of this region. He lives on the farm in Quincy, Florida where he grew up, and has vivid memories of hunting, fishing, and working in the fields and barns there. From an early age, McKeown was taught to preserve and respect the land and its beauty, and this has inspired his way of seeing and depicting the world around him.
Pondering the Panhandle is an exhibition of McKeown's paintings that explores over a decade of his work in this area. His use of realism helps the viewer to immerse themselves in the lives of residents of North Florida. His subjects are usually in the middle of an action, like pulling a net out of the water, reading a book, or gardening, in some day-to-day scene. McKeown captures landscapes that are often passed by without notice, and people going about daily chores. These unassuming scenes show off the loveliness of the artist's surroundings with unparalleled attention to detail.
William McKeown has received numerous awards for his paintings in exhibitions across the United States, and he has been given signature status of several prestigious Watercolor Societies. Image: William McKeown, Joe, 2017, watercolor, 23 x 27 inches.