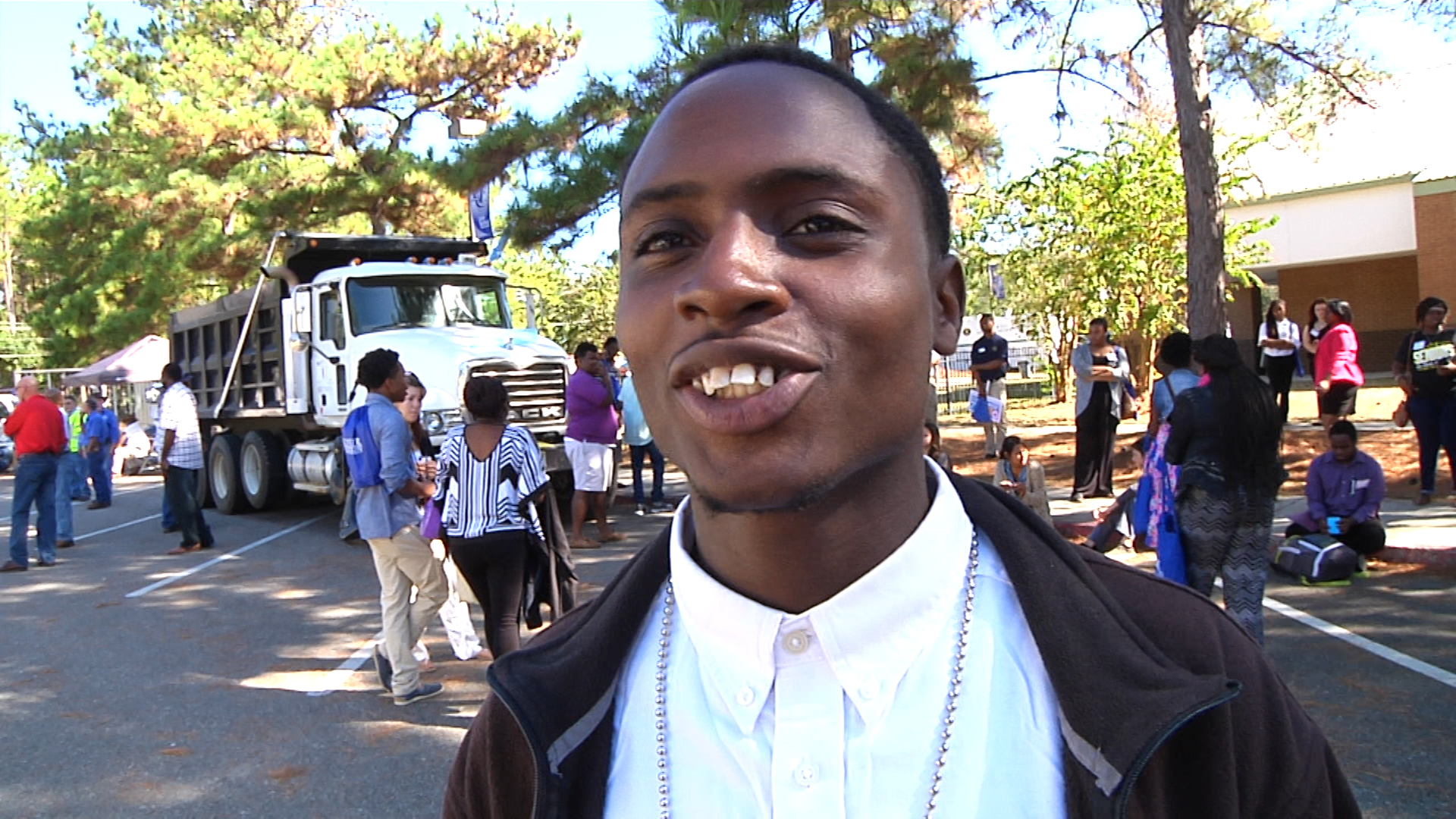 Last august,we met Alyssa Hodges, Johnny Davis, and James Fuse. They told us why they had each enrolled at the Success Academy, a public school in Leon County that allows students who have fallen behind to catch up on credits and earn a high school diploma. And they also shared their post graduation ambitions. In the segment above, we see each of them receive career guidance at the Leon Works Expo.
Leon Works gathered employers and vocational educators representing in demand and often underpopulated industries. Many of the jobs on display required a good deal of training, though not necessarily a college degree. Hundreds of high school seniors had a chance to talk to employers, work on interviewing skills, and even try their hand at some of the jobs (we saw kids welding, trying on SWAT team armor, and more).
Alyssa wants to be a labor and delivery nurse. She was able to talk to representatives from both Tallahassee hospitals. Outside, where the trucks and heavy gear was, she performed CPR on infant and adult dummies. She also spoke with Alvin Price from CareerSource Capital Region. Alvin advised her to visit their offices for fiurther guidance on the education and training needed, and what the job prospects were for labor and delivery nurses. WFSU's Kim Kelling Engstrom interviewed CareerSource's Jim McShane for the 2014 American Graduate Day. Watch and learn more about what they do here.
While Johnny still knows what he wants to do (work in real estate and help lower income families find housing), he learned about interesting alternatives as well. His backup plan is to get a Commercial Drivers License and see the country. He and James applied for jobs with H&R Block, which was there to recruit high school students.
James seemed intrigued by the earning potential of the H&R Block job, once he started on that track and advanced. Next time we catch up with him, it'll be interesting to see if he's still pursuing welding. He's been training at Lively Technical Center. We talked to his instructor, Mann Roberts, who told us of sending an 18 year old to a job where he makes $30 an hour, and who could, with overtime, clear in excess of $70,000 this year.
Leon County Commissioner Mary Anne Lindley emphasized that college isn't a prerequisite for many high-paying jobs. College doesn't even guarantee a job to many graduates who are left to figure out how to feed themselves while paying off student loans. With Leon Expo, students have a clearer picture of what jobs are available, the financial prospects of each, and what training it takes to gain employment. Another expo is currently being planned for this fall.