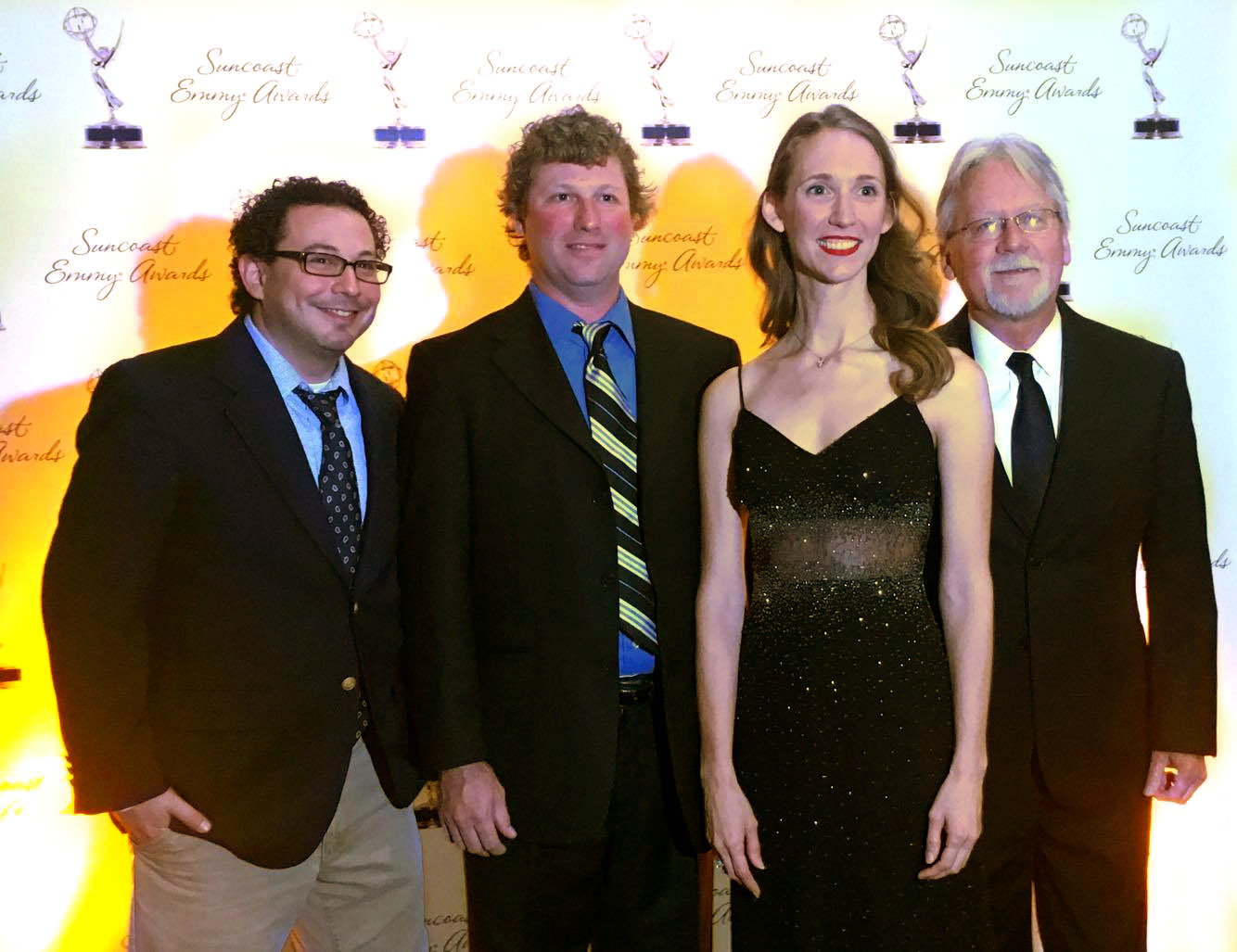 For the last week, I've repeatedly been congratulated for an Emmy I didn't win.  On Saturday, December 3, Kathryn Belle Long and Belle and the Band won a Suncoast Regional Emmy® Award for the Local Routes theme song.  It was their song, but I felt invested in its winning. Beyond this Emmy reflecting well on WFSU, to me it represented something larger. It was a high water mark for WFSU's collaborations with our local creative community.
Last summer, as we started conceiving of our new Local Routes show, we started discussing using a local band to write and record a theme song for the show. As the show's music producer, that was my mission.
At the same time we were planning the show, I kept seeing Belle and the Band play around Tallahassee. Their Tallahassee Waltz, which they performed on the show's first season, stuck out as a local anthem in the making. These guys were in tune with our area; they sounded like our area. In a town filled with talented musicians, they seemed uniquely suited to the task at hand.
According to guitar player Kevin Robertson, Kathryn wrote the song in 45 minutes. She worked off of a few general notes I'd given her regarding what the show would cover. She then recorded a solo demo for the station to take a listen, and for other members of the band to hear before heading into Log Cabin Studio to record.
That was my favorite part of the process. Camera in hand, I documented Kathryn, Kevin, Mickey Abraham (mandolin), and Mike Snelling (bass) work out the final product and play the song together for the first time. It was a treat to watch a song come together through the efforts of four creative people. It was indescribable to see that song come to represent our program, and to then receive about the highest honor it could.
And to think, we might have done what we typically did for theme music, and used a royalty free track. Theme song in hand, Local Routes was by no means done with local, original music content.
Music Custom Made for Local Routes
The first time Belle and the Band performed the Local Routes Theme in public, it was at the show's premiere party at Grasslands Brewing Company. There, I ran into Tracy Horenbein and Chan Leonard, a married musician/ producer team. They had both appeared, together and individually, on our OutLoud music program (which I produced from 1998-2008).
Tracy had a proposition that was too good to be true. She offered to score a project or projects, with original music. I had already pledged to use only local music in my ecology segments, and I have since May of 2015. But this was something different, and very enticing. I would be editing to custom created music, pieces that the public would hear for the first time when they watched the show.
I ended up asking Tracy to score our Roaming the Red Hills segments. RRH was a series of ten short segments airing over the course of three episodes, and collected into a Local Routes special. Tracy captured the feeling of bumping through a longleaf forest on hundred-year-old cart during a quail hunt, or reminiscences of childhoods spent on farms in the '40s and '50s. Watching the special, you'll also notice that we make mention of our theme song and its Red Hills imagery.
Since then, we've had several segments scored by local musicians, from Chris Matechik's banjo guiding us through Tate's Hell, to Hot Tamale scoring the transformations of monarch caterpillars into butterflies.
We're only just starting to figure out how best to work with the local creative community. Our mission is to tell the stories of the people who live here, or in many cases with my segments, about the animals here or even the land itself. Does being a musician in north Florida make one inherently more in tune with these stories? Maybe, maybe not.
But does the story retain its uniquely local feel when you hear the same royalty free music on a commercial or on ESPN? (Which has happened to me, by the way)
And it's not just musicians. In the winter of 2014/15, we collaborated with the Southern Shakespeare Festival for our EcoShakespeare adventures.
Dr. Kevin Carr came up with the basic premise of examining Shakespeare's connection to nature, and selected scenes from a Midsummer Night's Dream. I thought it would be fun to perform those scenes in natural settings, on EcoAdventures led by biologists and other naturalists. SSF Executive Director Laura Johnson and SSF Artistic Director Lanny Thomas planned the adventures with me, and took care of staging the performances.
Beyond the final product, which is the least conventional program I've ever produced, I enjoyed the process of working with them. As a video guy, new doors open up when I work with creative folks in other fields. Musicians and thespians are going to see things that I don't.
I was sold on the value of these collaborations long before I stood on stage, watching Kathryn Belle Long give her acceptance speech. The challenge going forward is to keep finding new partners who feel that they're getting as much from the collaboration as WFSU.
We know we need local music to score our segments. But how else can musicians participate and express themselves through the medium of video?   How can we collaborate with other artists? That's the challenge. I don't know what lies ahead, but it'll be fun to find out.
More about the Award
The Local Routes theme won in the Musical/ Composition/ Arrangement category.  The Suncoast region includes some big television markets, including New Orleans, Mobile, all of Florida (including top 15 markets Miami, Orlando, Jacksonville, and Tampa), and Puerto Rico.  This year, the Suncoast region received a record number of entries.
On a side note, Belle and the Band scoped out the other nominees in their category, and vice versa.  One of the nominees recognized Kathryn from our video, and introduced themselves to her and Mickey.  After the ceremony, they texted Mickey their congratulations.  A class act!