In this special web extra, internationally recognized Chinese musician and Tallahassee Resident, Haiqiong Deng, appears in our studio for a second "Local Routes" performance. She plays the song "The Guangling Melody" for us using a 21-stringed instrument called a "Zheng." This performance was also heard in the Local Routes story about Butterflies of the Red Hills.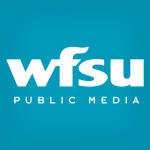 Rob Diaz de Villegas is a senior producer for television at WFSU Public Media, covering outdoors and ecology. After years of producing the music program OutLoud, Rob found himself in a salt marsh with a camera, and found a new professional calling as well. That project, the National Science Foundation funded "In the Grass, On the Reef," spawned the award-winning WFSU Ecology Blog. Now in its tenth year, the Ecology Blog recently wrapped its most ambitious endeavor, the EcoCitizen Project.
Rob is married with two young sons, who make a pretty fantastic adventure squad.