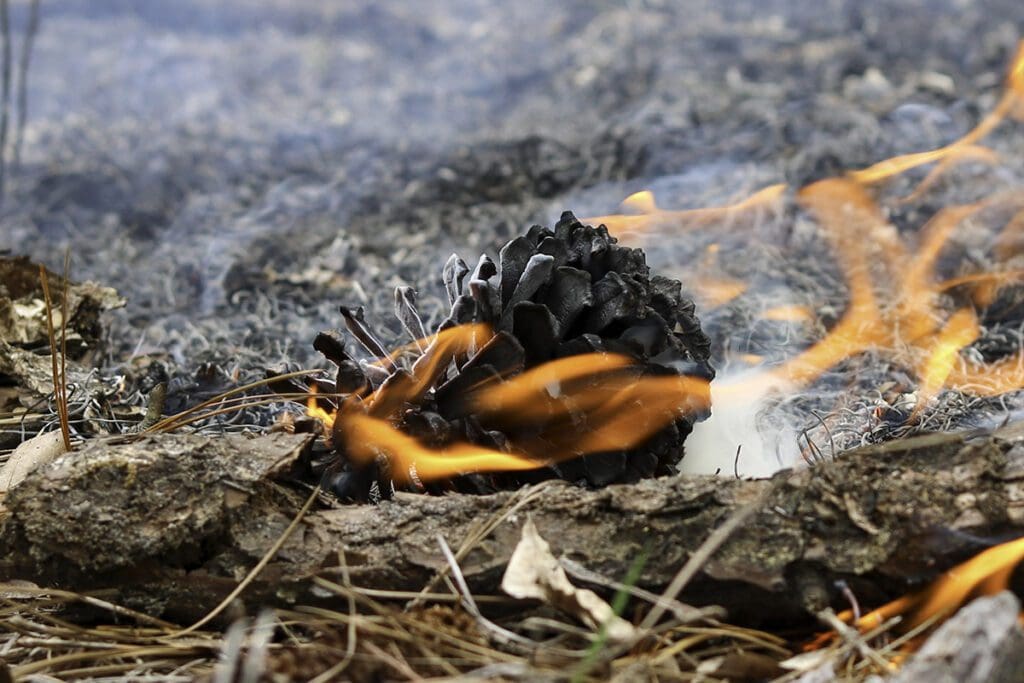 I set the camera on the ground, and watch as the fire burns slowly through the grass towards me. By the end of the day, the ground will be black and empty. Fire hits the reset button in longleaf ecosystems; applied every 1-3 years, grasses and wildflowers cover more ground than do woody plants. In turn, this openness suits a host of animals that have evolved in this landscape. Frequent fire creates ecological balance here.
But might ecological balance locally contribute to an environmental imbalance globally? Watching the foliage turn to ash and smoke, we're seeing carbon leave plants and enter the atmosphere. Regular prescribed fire is good for plants and animals, but might it be contributing to global climate change?
It's a question that has interested researchers in recent decades. One of those researchers is Dr. Josh Puhlick, a silviculturist at the Jones Center at Ichauway, in south Georgia. Today the Jones Center is applying prescribed fire to several plots of longleaf forest. They've been at it for a little over a month, and so we can see different plots in different states of regrowth.
The Jones Center is a 29,000 acre laboratory, and these parcels of land are the foundation of the research conducted here. In these plots, Josh and his colleagues can see how flora and fauna respond to fire in different scenarios. They can experiment with different methods of sustainably harvesting timber from the forest. And they can also see how this ecosystem stores and releases carbon after a fire.
Can the longleaf pine habitat store more carbon than it burns away?
To many, longleaf pine ecosystems are more savannas than forests. The ideal habitat resembles a grassland, with pines standing a respectful distance from one another. When thinking about carbon in this habitat, I think of how few trees there are compared to other forest types.
About 58% of a plant's matter is carbon. It would take a lot of wiregrass to store as much carbon as a tree that can grow to 120 feet tall, and that has a dense wooden trunk. Fire suppresses oaks and other hardwoods, not killing them, but keeping them small. Without fire, they become full sized trees, and so they would store much more carbon. Allowing this to happen would reduce the diversity of plant and animal species in the system, but might it not take more carbon out of the atmosphere?
And then there's the smoke. Plants store carbon in their bodies in the form of carbohydrates. When fire burns away the grasses, palmettos, wildflowers, and the leaves of all the hardwoods, carbohydrates become carbon dioxide, a greenhouse gas.
Doing the carbon math on my fingers, it's hard to see the longleaf ecosystem as carbon negative (meaning it takes in more carbon than it emits). But when the Jones Center and other researchers actually measure the carbon coming into and going out of the whole system, what do they find? The answer's not as obvious.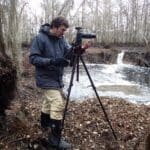 Rob Diaz de Villegas is a senior producer for television at WFSU Public Media, covering outdoors and ecology. After years of producing the music program OutLoud, Rob found himself in a salt marsh with a camera, and found a new professional calling as well. That project, the National Science Foundation funded "In the Grass, On the Reef," spawned the award-winning WFSU Ecology Blog. Now in its tenth year, the Ecology Blog recently wrapped its most ambitious endeavor, the EcoCitizen Project.
Rob is married with two young sons, who make a pretty fantastic adventure squad.