Recent cold weather reminds us that we're in winter, but in the Red Hills of Georgia and the Apalachicola National Forest, this is the time of year when a very rare flower blooms. If you visited these areas in May, you'd never even know this flower exists, but right now, the forest is carpeted with erythronium umbilicatum – the dimpled trout lily.
About five miles west of Cairo and about 2 miles east of Whigham on the south side of US 84, Wilson Baker, biologist, leads the way through the woods. The land here was private when Baker decided to investigate the area after hearing there were trout lilies in the area. He got permission to explore.
For more information on the Wolf Creek Trout Lily Preserve, including tour times, visit their website at wolfcreektroutlilypreserve.com and to learn more about our local ecology, visit WFSU's Ecology Blog.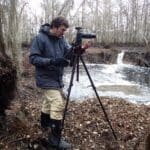 Rob Diaz de Villegas is a senior producer for television at WFSU Public Media, covering outdoors and ecology. After years of producing the music program OutLoud, Rob found himself in a salt marsh with a camera, and found a new professional calling as well. That project, the National Science Foundation funded "In the Grass, On the Reef," spawned the award-winning WFSU Ecology Blog. Now in its tenth year, the Ecology Blog recently wrapped its most ambitious endeavor, the EcoCitizen Project.
Rob is married with two young sons, who make a pretty fantastic adventure squad.