We visit with Lilly Anderson-Messec of Native Nurseries in Tallahassee to learn a little bit about creating a butterfly garden. Bees and butterflies are attractive and useful pollinators. Our native insects have established ecological relationships with different species- fill you yard with those plants, and you'll see more pollinators. Learn more on the WFSU Ecology Blog: wfsu.org/ecologyblog.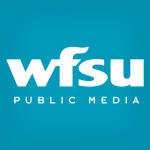 Rob Diaz de Villegas is a senior producer for television at WFSU Public Media, covering outdoors and ecology. After years of producing the music program OutLoud, Rob found himself in a salt marsh with a camera, and found a new professional calling as well. That project, the National Science Foundation funded "In the Grass, On the Reef," spawned the award-winning WFSU Ecology Blog. Now in its tenth year, the Ecology Blog recently wrapped its most ambitious endeavor, the EcoCitizen Project.
Rob is married with two young sons, who make a pretty fantastic adventure squad.