In 1973, Charles Hoffman found mammoth bones alongside spearpoints in the Silver River. At the time, many archeologists didn't believe that humans could be in Florida early enough to interact with mammoths, and that underwater excavations were unscientific. We revisit the site with researchers who are making underwater prehistoric archeology relevant. Their most intriguing sites are in our area.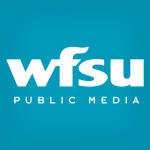 Rob Diaz de Villegas is a senior producer for television at WFSU Public Media, covering outdoors and ecology. After years of producing the music program OutLoud, Rob found himself in a salt marsh with a camera, and found a new professional calling as well. That project, the National Science Foundation funded "In the Grass, On the Reef," spawned the award-winning WFSU Ecology Blog. Now in its tenth year, the Ecology Blog recently wrapped its most ambitious endeavor, the EcoCitizen Project.
Rob is married with two young sons, who make a pretty fantastic adventure squad.