We head to Byrd Hammock in the St. Marks National Wildlife Refuge to solve a mystery. Around 650 AD, people left their villages across northwest Florida, only to move a few feet away in some cases. Why? Archeologists from the National Park Service are trying to find out.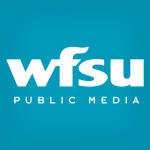 Rob Diaz de Villegas is a senior producer for television at WFSU Public Media, covering outdoors and ecology. After years of producing the music program OutLoud, Rob found himself in a salt marsh with a camera, and found a new professional calling as well. That project, the National Science Foundation funded "In the Grass, On the Reef," spawned the award-winning WFSU Ecology Blog. Now in its tenth year, the Ecology Blog recently wrapped its most ambitious endeavor, the EcoCitizen Project.
Rob is married with two young sons, who make a pretty fantastic adventure squad.