At Fred George Basin Greenway, geologist Harley Means takes us to two sinkholes that may one day become one of the Red Hills' sinkhole lakes.
I'm off trail, following Harley Means into a hole in the ground.  Maybe not so much a hole as a depression.  Once at the bottom of this unremarkable looking bowl, we do something I love to do on the Ecology Blog: a little bit of time traveling.  It's the kind of thing we'd normally need a little bit of imagination to do.  Or a larger graphics budget.  This time, though, Harley and I have already visited the future of this place.
We're standing in what may, one day, become one of Tallahassee's sinkhole lakes.
This is one of two adjacent sinkholes on the Fred George Basin Greenway.  Opening in 2016, the Greenway is one of our newer public spaces.  A major reason that Blueprint 2000 sought to buy the land is to protect these gateways to the Floridan Aquifer, the source of our drinking water.  Dye traces have shown that water flowing into the larger sinkhole will emerge in two different City of Tallahassee water wells.  The surrounding floodplain forest is now protected as a filter for that water.
Discover more about the science and behind-the-scenes EcoAdventures of the Fred George Basin Greenway with WFSU's Rob Diaz de Villegas by clicking here or heading to the wfsu.org/ecologyblog to read the full article.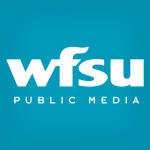 Rob Diaz de Villegas is a senior producer for television at WFSU Public Media, covering outdoors and ecology. After years of producing the music program OutLoud, Rob found himself in a salt marsh with a camera, and found a new professional calling as well. That project, the National Science Foundation funded "In the Grass, On the Reef," spawned the award-winning WFSU Ecology Blog. Now in its tenth year, the Ecology Blog recently wrapped its most ambitious endeavor, the EcoCitizen Project.
Rob is married with two young sons, who make a pretty fantastic adventure squad.