Beneath scenic Merritt's Mill Pond, we learn that there is more alive in the waters beneath Florida than one might think. Researchers at Florida A&M University are discovering new species of cave crustaceans, and redefining biodiversity in the Floridan Aquifer. Thanks to Andrew Dow for shooting the underwater footage in the video, and to Dr. Tom Sawicki for providing images of the animals.
Andrew Cannizzaro aims his net at the area around a dead crawfish. "We'll find the highest numbers right around there," he says. After scraping the sediment around the claw, he pulls it up and takes a look. We see what look like several dozen insects flopping around. If we were to take these creatures and put them under a microscope, however, we'd see something more closely resembling a tiny, tiny shrimp. These are amphipods, small crustaceans present in all of our local waterways, and sometimes by the million.
We're on a platform in Merritt's Mill Pond near Marianna. Six or seven springs here, highlighted by Jackson Big Blue, attract cave divers from around the world. The pond was created by damming their spring run; I kayaked the cypress lined reservoir on my last visit here. On the other side of the dam flows Spring Creek, a popular tubing destination that flows into the Chipola River. This is one of Jackson County's favorite outdoor playgrounds.
Today, though, we're here for science.
Explore more of the discoveries made in the waters of Merritt's Mill Pond. Click here or head to wfsu.org/ecologyblog to read Rob Diaz de Villegas' full article about this EcoAdventure.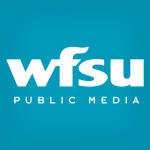 Rob Diaz de Villegas is a senior producer for television at WFSU Public Media, covering outdoors and ecology. After years of producing the music program OutLoud, Rob found himself in a salt marsh with a camera, and found a new professional calling as well. That project, the National Science Foundation funded "In the Grass, On the Reef," spawned the award-winning WFSU Ecology Blog. Now in its tenth year, the Ecology Blog recently wrapped its most ambitious endeavor, the EcoCitizen Project.
Rob is married with two young sons, who make a pretty fantastic adventure squad.