In our last visit to Torreya State Park, we saw a park whose unique tree canopy had been seriously damaged by Hurricane Michael. Today, we see how, in another section of the park, they've planted over 1.6 million longleaf pine in an effort to restore sandhill communities surrounding steephead ravines.
For those of you who've visited Torreya State Park, I'll ask you to remember the drive in. You pass a lot of picturesque rural landscapes, and forest land. It helps set the mood for your remote nature experience in the bluffs overlooking the Apalachicola River. But then, closer to the park, you pass an unsightly expanse of bare earth or two. It's a momentary break in the scenery. In a few years, though, it might very well be the highlight of the drive.
In fact, some of those bare patches are starting to grow in.
"As you drive in, you're passing much of our lands." says Jason Vickery, the park's manager. "Those open fields of, you know, wiregrass, and little longleaf pines coming up- that's all efforts you're seeing that started in the early 2000s."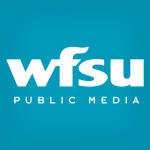 Rob Diaz de Villegas is a senior producer for television at WFSU Public Media, covering outdoors and ecology. After years of producing the music program OutLoud, Rob found himself in a salt marsh with a camera, and found a new professional calling as well. That project, the National Science Foundation funded "In the Grass, On the Reef," spawned the award-winning WFSU Ecology Blog. Now in its tenth year, the Ecology Blog recently wrapped its most ambitious endeavor, the EcoCitizen Project.
Rob is married with two young sons, who make a pretty fantastic adventure squad.