Our friends at the UF/ IFAS Leon County Extension show us how to create a wildlife pond in your yard. Start with local lake or pond water, and add native plants, and you'll create a wetland area that will feel like your local waterways to a host of critters. Learn how to keep your water from leaking out, how to protect your liner, and what plants to use.
This is the first video I've edited since I've been isolating at home with the family. In the coming weeks, we'll travel out in search of indigo snakes and check in on Saint Vincent Island (red wolf tracks, eaglets in nests, and rare lupines in bloom- oh yeah). But since so many of us are stuck at home, I thought I'd edit this one first. Because if we manage our yards right, there's no reason we can't see plenty of wildlife right out of our windows.
When I write about the home ecosystem, I usually focus on pollinators and insects of all sorts. But frogs and tadpoles would be cool. A turtle would be great. And having an aquatic environment would let us bring in a whole different group of native plants than we might already have in our yards.
Today, we're building a wildlife pond.
More specifically, Rachel Mathes and the team at the UF/ IFAS Leon County Extension office are building a pond. Rachel's going to guide us through the steps of creating a pond, both from an engineering and an ecological perspective. On the one hand, you're creating a feature that will hold water, and you want it to maintain its integrity. On the other, if we want to attract wildlife, there has to be harmony between the living and nonliving elements of your pond, mimicking as closely as possible the nearby waterways with which their species have formed relationships over thousands of years.
With that in mind, we'll start not with the hole in the ground, but instead by dragging buckets to Piney Z. Lake.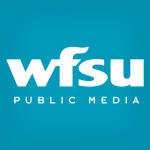 Rob Diaz de Villegas is a senior producer for television at WFSU Public Media, covering outdoors and ecology. After years of producing the music program OutLoud, Rob found himself in a salt marsh with a camera, and found a new professional calling as well. That project, the National Science Foundation funded "In the Grass, On the Reef," spawned the award-winning WFSU Ecology Blog. Now in its tenth year, the Ecology Blog recently wrapped its most ambitious endeavor, the EcoCitizen Project.
Rob is married with two young sons, who make a pretty fantastic adventure squad.