Florida State University oceanographer Jeff Chanton is a studies sea level rise. While he has gained renown for his global research, he's also interested in the coast nearer to home. He and his wife, author Susan Cerulean, have a long relationship with Saint Vincent Island, a barrier island on Apalachicola Bay and a National Wildlife Refuge. They set out to measure sea level rise on the island.
I hate how impressive the wreckage looks. Some of these stumps are visually fascinating; extraterrestrial sculptures beamed onto our beaches. On the west side of Saint Vincent Island, we encounter the sight in the banner image above. You can tell it's fresher than the stumps on Carrabelle Beach, which the waves have smoothed over time. Here on the island, over a year removed, we can still feel the violence of what happened. Hurricane Michael showed us how sea level rise works.
"Hurricanes are the agents of change." Says Jeff Chanton. Jeff is an oceanographer at Florida State University, and a renowned expert on sea level rise. As he points out, seas are rising every day, little by little. And then, every few years, in ways not so little. "Shoreline erosion is episodic. It goes along, goes along, goes along, and all of a sudden it will happen in a big way. And that big way is associated with a hurricane."
Over the course of a day, we follow Jeff along the Forgotten Coast, past many of my favorite places. He shows us how the rising Gulf hits man made structures differently than sand dunes, which are nature's defense from storm surge and waves, themselves created by waves. Of course, if a storm is strong enough, even dunes wash away.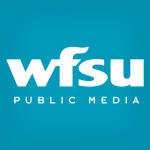 Rob Diaz de Villegas is a senior producer for television at WFSU Public Media, covering outdoors and ecology. After years of producing the music program OutLoud, Rob found himself in a salt marsh with a camera, and found a new professional calling as well. That project, the National Science Foundation funded "In the Grass, On the Reef," spawned the award-winning WFSU Ecology Blog. Now in its tenth year, the Ecology Blog recently wrapped its most ambitious endeavor, the EcoCitizen Project.
Rob is married with two young sons, who make a pretty fantastic adventure squad.