WFSU is taking your family on an online, offline adventure with Florida KidCare WFSU Summer Challenge! Also sponsored by the John S. Knight Foundation's Donor Advised Fund at the Community Foundation of North Florida, join WFSU and Community Classroom Consortium friends to launch this year's virtual event, June 6th from the comfort of your own home! Learn more at wfsu.org/summerchallenge.
The Kickoff Event begins at 10am ET on WFSU Education's Facebook Page and goes until 2pm ET. You can join us at the beginning, join us throughout the day, or hop on and off through out the afternoon.
If your looking to get an idea of what kinds of fun interactive activities will be taking place. Check out these videos.
The Summer Challenge goes all summer long. We'll even have free supplies to help kick of the summer adventures. You can pick them up at the station Tuesday June 9th or Saturday, June 13th from 10am to 11:30am. You can also download them online.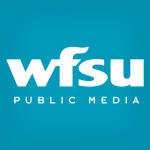 Suzanne Smith is Executive Producer for Television at WFSU Public Media. She oversees the production of local programs at WFSU, is host of WFSU Local Routes, and a regular content contributor.
Suzanne's love for PBS began early with programs like Sesame Street and Mister Rogers' Neighborhood and continues to this day. She earned a Bachelor of Journalism degree from the University of Missouri with minors in political science and history. She also received a Master of Arts in Mass Communication from the University of Florida.
Suzanne spent many years working in commercial news as Producer and Executive Producer in cities throughout the country before coming to WFSU in 2003. She is a past chair of the National Educational Telecommunications Association's Content Peer Learning Community and a member of Public Media Women in Leadership organization.
In her free time, Suzanne enjoys spending time with family, reading, watching television, and exploring our community.