Welcome to the 2020 Summer Challenge sponsored by Florida KidCare
Summer is here and WFSU Public Media wants to help you and your family stay busy, have fun, and continue learning all summer long with our Summer Challenge! This event is made possibly by the generous support of Florida KidCare. Normally we have an event at our station to celebrate the start of summer, but because of the need to socially distance ourselves this summer, we had fun trying a new thing – a VIRTUAL Summer Challenge Kickoff!  We were joined by friends from North Florida educational organizations in sharing amazing activities, and introduced our 2020 Summer Challenge checklist. 
Are you looking for the checklist!?
View the June 6th kick-off event below!
Quick Rundown of the 2020 Summer Challenge
Dates
Event
Location
Register for the 2020 Summer Challenge
We will send you a link to the online kick-off event! Please be certain to take this first step to be on your way to a summer of family fun.
Online
LIVE June 6, 2020, 10 am – 2 pm ET
Virtual Summer Challenge Kickoff. See below for more info.
Online
June 9, 10 am – 11:30 am ET

June 13, 10 am – 11 :30 am ET

Pickup your checklist, activity book, and goodies! Alternatively, you can download materials at any time after the kick-off event.
WFSU Public Media, at 1600 Red Barber Plaza in Tallahassee
All Summer Long
Work through the Summer Challenge checklist. Have fun!
At home
August 7
You've racked up points – don't forget to turn in your checklist. Earn great prizes!
Email your lists and photos to hbabcock@wfsu.org.
August 11 from 10-12pm ET
August 13 from 5-7pm ET
August 15 from 11-1pm ET
Summer Challenge Prize Pick-up. Come by the station whichever day works best for you to scoop up your hard-earned goodies and celebrate your successes in keeping the summer fun and educational! We'll be in full PPE and orchestrating curb-side pick-up at our headquarters off of Potsdamer St.
WFSU Public Media, at 1600 Red Barber Plaza in Tallahassee
2020 Summer Challenge Kickoff Info
What is the Virtual Summer Challenge Kickoff? 
An interactive virtual event for kids and families to watch and do activities with us, while also learning from our many friends and partner organizations. Learn about the Summer Challenge checklist and how it can keep the fun going all summer long! 
What is the WFSU Summer Challenge checklist? 
The Summer Challenge Checklist is our special list of fun activities you can do together with your children, all summer long. Keep track of what activities you complete, document with photos, and earn points for each activity you do. Tag us on Facebook or Instagram (@wfsueducation) and use the hashtag #WFSUsummerchallenge. At the end of the summer, send us your checklist and images to earn prizes based on how many points you earn! Checklists are due by August 1, 2020.  
How can I watch the Live Virtual Summer Challenge Kickoff? 
You can watch the Kickoff here, on Facebook!
Every 15 minutes, a new partner joined our live stream to give a tour, do an activity, or demonstrate a learning opportunity from their specific location. WFSU also showcased fun PBS KIDS activities and games to do at home! Watch for a little bit, or for the whole event! Either way you will see and learn exciting things from a variety of sources.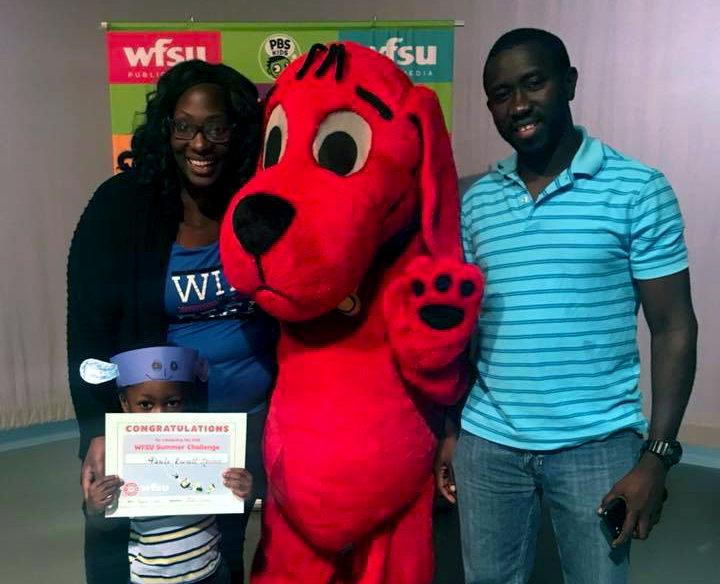 Who can I expect to see on WFSU's Virtual Summer Challenge Kickoff? 
We had so many partners and friends with us to share educational experiences with you! Here's the approximate schedule for the livestream: 
How do I participate in WFSU's Summer Challenge after the Virtual Kickoff? 
Did you miss our pick-up dates at the beginning of June? You can still download the Summer Challenge checklist and print it at home! Click the link below to find our 2020 Checklist, ready to print. 
Questions? Please email education@wfsu.org.