From 1966 to 1967, WFSU produced a children's television program called Miss Nancy's Store, starring educator Nancy Tribble Benda. Local Routes takes a look at the life led by Benda, who performed as a Weeki Wachi mermaid as a teenager, appeared on television in the 60s as Miss Nancy, and later in life worked for the Florida Department of Education as the Director of Equal Opportunity Programs.
It might be hard to believe, but there was once a time before classic television shows like Mr. Rogers' Neighborhood and Sesame Street. Children's programming, like the content aired by PBS KIDS today, was not always prevalent. Up until the late 1960s, there were only a handful of shows made for kids. But one day in 1966, children across the State of Florida turned on their TV sets and tuned into Miss Nancy's Store, broadcast live from WFSU-TV in Tallahassee.
One of these children was Michael Martinez, now a writer and theorist. "My earliest memory of Miss Nancy is of one of my friends suddenly saying at about 4:30 or 5 in the afternoon, 'I've gotta go home and watch Miss Nancy!' Well I said, 'What's Miss Nancy?'" Martinez reminisces. A few days later, Martinez says he flipped to channel 2 from his home in Miami and soon started watching the show every day.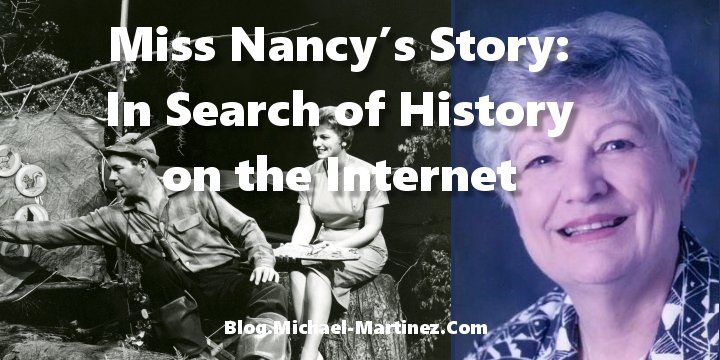 If you search for "Miss Nancy's Store" on the Internet in 2021, chances are you will come across a prolific blog post by Michael Martinez that is six years in the making. When Local Routes was approached to pursue the story of the program by WFSU Education Manager Tasha Weinstein, Martinez's blog was one of a few strong Internet sources for information on the show. Up until the production of this segment, it was one of the only places to find an account of someone with lived memories of the program. Fortunately, Weinstein had been hot on the trail of Miss Nancy's Store for years before production began, and her research guided Local Routes to a wealth of resources for this story.
Weinstein contacted the Zonta Club of Tallahassee, the local chapter of women's rights organization Zonta International, which Nancy had been a member of until her passing in 2015. It was through Tasha that Local Routes contacted a couple of Nancy's fellow Zontians as well as her younger sister for interviews.
Nancy Benda (nee Tribble) was born in 1930 in DeLand, Florida. Nancy's sister Carmean Johnson describes her sister as "very talented from the get-go." She participated in swimming from a young age and was one of the very first Weeki Wachee Mermaids at Weeki Wachee Spring in Hernando County, Florida. Johnson recalls staying with Nancy while she worked at Weeki Wachee Springs in the summers. "She was always very good to us. We loved being at Weeki Wachee and being a little pesty," Johnson chuckles. In Nancy's senior year of high school, she performed as Ann Blyth's swimming double in the film Mr. Peabody and the Mermaid. To promote the film, she was paraded around Tampa in a moving aquarium, and presented with the key to the city.