A farm called "Smarter by Nature" in Quincy, Florida is the location for this story. WFSU's Rob Diaz de Villegas show us how Angelique Taylor and David "Kip" Ritchey founded a rural farming business in order to provide fresh produce and opportunities for economic sustainability .
I'm visiting Smarter by Nature in a time of transition. Rows of winter greens look ready for harvest, while seedlings wait to enter the ground. In a shady corner of the lot, Kip and Angelique methodically cut weeds with hand sickles. They work quickly, but they have several more rows to tackle with nothing but people power.
"Many people think that using hand tools is a lot of work," Kip says. "But it's not really, because we only do it twice a year. We have to bring new carbon into our soil"
He holds up a clump of ratty hay, explaining that when they first laid it over their rows, it did a good job suppressing weeds. Now it's breaking down and adding to the soil. It also now lets weeds grow, but Kip and Angelique welcome them.
"Since we weren't using these beds in the first place, we've allowed the weeds to come." Kyp says. "Their root systems keep the soil intact while the soil is not being attended to."
The roots of the docks, vetch, and medic plants keep the soil together. Vetch and black medic enrich the soil with nitrogen while alive, and then all the weeds add nitrogen after they're chopped and left to decompose. The hay suppresses weeds and retains water for a few months before it too decomposes and adds carbon to the soil.
Notice the focus on soil.
In a previous segment, Herman Holley from Turkey Hill Farm said, "Composting really is the way to save the world!" A growing number of people feel the same way about soil.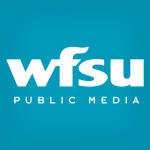 Rob Diaz de Villegas is a senior producer for television at WFSU Public Media, covering outdoors and ecology. After years of producing the music program OutLoud, Rob found himself in a salt marsh with a camera, and found a new professional calling as well. That project, the National Science Foundation funded "In the Grass, On the Reef," spawned the award-winning WFSU Ecology Blog. Now in its tenth year, the Ecology Blog recently wrapped its most ambitious endeavor, the EcoCitizen Project.
Rob is married with two young sons, who make a pretty fantastic adventure squad.