We meet two retired elephants who are calling the Elephant Refuge North America in south Georgia their home. We also kayak through Lower Lake Lafayette in a fun EcoAdventure. Plus, we meet a new contributor to our WFSU Ecology Blog, Dani Davis.
Where do elephants go when they retire?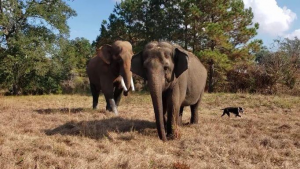 That may not be a question you've ever asked, but WFSU's Mike Plummer sure did.  In the case of two retired elephants named Bo and Tarra, he found out they headed to the Elephant Refuge North America in Attapulgus, Georgia.  They are the first residents at the sanctuary for retired elephants run by Carol Buckley. Mike first met Buckley in 2017 when she was first working to build the refuge. Now, 5 years later, we not only get to see the final result of what Buckley wanted to create, but we meet the pachyderms that now call the 850 acres of south Georgia home.
Kayaking through Lower Lake Lafayette.
WFSU's Rob Diaz de Villegas heads out onto the water of Lower Lake Lafayette for a kayaking EcoAdventure.  Rob explores the connection between this lake and Piney Z Lake which is separated by an earthen dam.   He also follows a 6-mile water trail in at the lake and checks out native plants as well as the creatures that make the lake home. If you're thinking of heading to the lake to out for yourself, this story gives you a great preview of what to expect on the water.
You can count on Dani!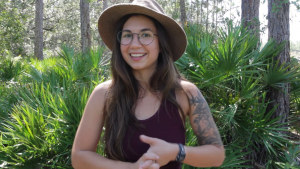 WFSU's Ecology Blog has a new contributor, and her name is Dani Davis. Davis is writing articles and creating videos for the blog while getting her master's degree at FSU.  The focus of the research she is doing for her degree is on the "effects of seaweed on barrier island plant communities."  In this episode we not only meet Dani and learn more about her, but we also see part of a video she created from her post about counting plants at St. George Island in Franklin County as part of an annual plant census.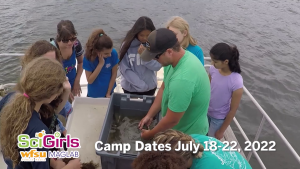 The popular summer camp for middle school girls interested in science is planning to be back in person this summer. Applications for the WFSU/Maglab Scigirls 2022 summer camp is now available. This year's camp will take place July 18 through the 22nd. During the one-week camp, girls get hands-on experiences in various fields of science and learn more about the careers involved. Time to apply is running out. Get your application in by April 8th.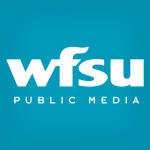 Suzanne Smith is Executive Producer for Television at WFSU Public Media. She oversees the production of local programs at WFSU, is host of WFSU Local Routes, and a regular content contributor.
Suzanne's love for PBS began early with programs like Sesame Street and Mister Rogers' Neighborhood and continues to this day. She earned a Bachelor of Journalism degree from the University of Missouri with minors in political science and history. She also received a Master of Arts in Mass Communication from the University of Florida.
Suzanne spent many years working in commercial news as Producer and Executive Producer in cities throughout the country before coming to WFSU in 2003. She is a past chair of the National Educational Telecommunications Association's Content Peer Learning Community and a member of Public Media Women in Leadership organization.
In her free time, Suzanne enjoys spending time with family, reading, watching television, and exploring our community.