Originally Posted May 28, 2020
Early in the Pandemic, WFSU Ecology Producer Rob Diaz de Villegas and his family hiked the Garden of Eden Trail through biologically and geologically unique steephead ravines, a recently burned longleaf forest, and up to Florida's highest river bluff. The Garden of Eden of Eden Trail is on The Nature Conservancy's Apalachicola Bluffs and Ravines Preserve.
After a few weeks of isolation, we're ready to go out and see something. Something big. Having produced a few segments on the Apalachicola Bluffs and Ravines region lately, I've come to realize that it's been a few years since we've had a family adventure there. Those outings had taken place in Torreya State Park. But now, I wanted the boys to see Alum Bluff, and steephead ravines. So I convinced Amy that we had to hike the Garden of Eden Trail.
The trail runs through The Nature Conservancy's Apalachicola Bluffs and Ravines Preserve (ABRP). Torreya and ABRP protect geologically and biologically unique steephead ravines, and the highest river bluffs in Florida. And both are restoring the native sandhills habitat in the uplands around the ravines. The Garden of Eden Trail lets you see all of that in a less-than-four-mile hike.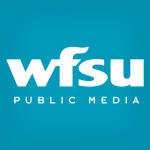 Rob Diaz de Villegas is a senior producer for television at WFSU Public Media, covering outdoors and ecology. After years of producing the music program OutLoud, Rob found himself in a salt marsh with a camera, and found a new professional calling as well. That project, the National Science Foundation funded "In the Grass, On the Reef," spawned the award-winning WFSU Ecology Blog. Now in its tenth year, the Ecology Blog recently wrapped its most ambitious endeavor, the EcoCitizen Project.
Rob is married with two young sons, who make a pretty fantastic adventure squad.