Tallahassee sees a lot of talented young musicians – one of them is Dylan "Ragpicker" Allen. Growing up, he wanted to be a blues musician but realized that so many of them had cool names like Howlin' Wolf or Muddy Waters that he wanted to have a cool name of his own. He listened to a lot of "hobo blues" and played a lot of re-purposed instruments, so he looked through a list of old hobo terms looking for inspiration. He seized on the word "ragpicker" because that was someone who would take old trash and recycle it into toys for kids. Since he does that repurposing with his instruments, he figured that "Ragpicker" fit just fine.
Dylan started with music when he was five or six years old. "I heard Elvis in a Lilo and Stitch movie and I thought, 'This is really cool.' I really dug it. I wanted to be Elvis as a kid. I tried to sing like Elvis; I tried to dance like Elvis. I would do musicals at my church as a little kid. I got into theater in middle school. For high school, I got into almost every program that they had between orchestra, band and choir."
He started out as a vocalist, but at age thirteen, he wanted to get a guitar. "One guitar was cool. When you are thirteen, girls like guitar players, so I thought, 'let me pick one of these up.' I started guitar and I was self-taught on that. It took a year of classical to get an idea, but from there every other instrument I picked up on my own."
Dylan plays nine instruments, including the guitar, piano, mandolin, banjo, ukulele, harmonica, and slide guitar. He made his own guitar as an apprentice to a luthier named Ted Crocker. He started the cigar box revolution in the early 2000s. That particular guitar was his first project with Crocker and he made it out of his grandmother's hardwood floor, handmade the pickups inside and took the neck off an old guitar he already had.
Of his guitar, Dylan says "I like the history of it, and the biggest thing I found out when I started doing this, I would play on street corners and stuff like that – and I realized when I just had a guitar, people don't pay attention all the time. Anyone can go on a street corner and start playing. That's when I started picking up, okay, you need to play a weird instrument, play it behind my head. Let me make up songs about people as they go by. If it gets people's attention, that's great. And two just because it is different."
In middle school, Dylan tried to start several bands. They lasted between a week and a month – it was hard to get people to stick around. So when he did shows, he's stomp is feet to keep time and he had the idea to add something to that. He got up with Ted Crocker, who showed him videos of one-man bands and Ben Prestage and Johnny Lobo. Dylan started with a box and put a piezo pickup in. That was his base drum. Then he thought about putting his other foot to work and tried putting a tambourine on it. His background in marching bands reminded him that when you're marking, you keep time with one foot against the other. Dylan became a one-man band, himself.
Inspiration for Dylan's music came from a number of things. "The first thing you hear from people, you sing the blues and you're too young to understand that stuff. Admittedly, I have gone through stuff in my life. My father walked out on his kid. I didn't have the best step-father in the world. I almost lost my mother to cancer a few years ago. Through different stuff, I realized some people pick up a bottle. Some people turn to drugs. I picked up the guitar. To me, it is the best therapy in the world."
During the summer of 2015, Dylan did a kickstarter campaign to get a record going and recorded over in gasoline alley with Jerry Gaskins. He did the whole record. "Instead of doing the one-man band set up, I went in and recorded the drums, the bass parts – I would do the drum line. And then I'd lay down the guitar. I would to the vocals or the harmonica or whatever it was. That was a lot of fun. It was a little different than my normal style of music. It was going into more of a punk-a-billy, hard rock vibe. It was a lot of fun. A lot of that stuff I played live off that album is a little different because I can't do it the same way. But it's still kind of a fun challenge to try."
Dylan "Ragpicker" Allen's album is called "Snake Oil Salesman" and he's working on another one as part of a duo. When he's not doing his one-man band show, he's got a two-piece garage punk band called "Invented Truths".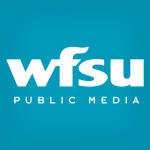 Suzanne Smith is Executive Producer for Television at WFSU Public Media. She oversees the production of local programs at WFSU, is host of WFSU Local Routes, and a regular content contributor.
Suzanne's love for PBS began early with programs like Sesame Street and Mister Rogers' Neighborhood and continues to this day. She earned a Bachelor of Journalism degree from the University of Missouri with minors in political science and history. She also received a Master of Arts in Mass Communication from the University of Florida.
Suzanne spent many years working in commercial news as Producer and Executive Producer in cities throughout the country before coming to WFSU in 2003. She is a past chair of the National Educational Telecommunications Association's Content Peer Learning Community and a member of Public Media Women in Leadership organization.
In her free time, Suzanne enjoys spending time with family, reading, watching television, and exploring our community.