"We're not in the artifact-collecting business; we're in the information-collecting business."
That's Dr. Glen Doran, Chair of the FSU Anthropology Department (Retired). "Florida has one of the richest prehistoric and historic heritages of any place in the country."
Many historic sites in our area go back thousands of years. Even though that history happened a long time ago, archaeologists are still discovering new sites and uncovering once unknown information. Our abundant waters preserve an ancient past that is incrementally being pieced together by archaeologists. As it stands now, professional archaeologists are the only ones legally allowed to remove artifacts from state waters. New legislation may change that.
"There are two bills in the (Florida) legislature this session and they both are saying the same thing," says Doran. "They're opening the door to let people collect and excavate off State of Florida river bottoms. Florida, right now, is doing pretty good with the laws we have. Not perfect. It's never going to be perfect, but there really is no need to change this. It's just going to be a disaster."
The bills currently being considered would allow amateurs to apply for a permit to collect "isolated historic or archeological artifacts" from submerged lands, all of which are state property.
Would-be collectors say that once an artifact erodes from a site, it has little scientific value.
Dr. Jim Dunbar, a retired archaeologist with the Florida Bureau of Archaeological Research, disagrees, saying "The situation in Florida is unique in that most of the rivers that are in Florida do not erode artifacts in a way that they tumble downstream. If you find artifact concentrations in a certain area, you'll probably find the in-place site in the banks."
Glen Doran expands on Jim Dunbar's statement, "You know, wet is really an important part of the preservation of materials, and particularly where the water is still. There's not a lot of wave action. Jim's right – these rivers in Florida have a very low gradient and the same thing is true of the coastal margin."
"We'd be able to, say, go here and be able to reconstruct climates, when water tables were down, when water tables were up, the kinds of plants that grew here… there's just so many things you can do," says Dunbar. "Why do we just want to let somebody go out there with a tool and dig them out of the bottom of the river? It makes no sense."
To clarify, the bill specifies that the only tool that could be used to collect is a trowel to shake loose partially exposed artifacts. Once out of the water, however, there is no way to tell whether it was fully buried or not.
"You would never know whether it was illegally or legally obtained," says Doran. "I can be out there on my scooter or dig a hole. Unless there was a game warden or somebody standing there watching me – once I get it into the boat, you can't prove how I got it."
Jim Dunbar adds "You can't separate someone who's well-intended as a collector from the antiquities market. There is no form of government that would afford that much money to be able to do so. You'll get more of this," he says, holding up a poster advertising a sale. "This is artifacts being sold off at auction in Kentucky – all of them are Florida. In 2014, on high-end antiquity markets, the average going price for a paleo-indian point was $26,400."
Jim oversaw Florida's previous attempt at letting citizens collect artifacts with the "Isolated Finds" program. Corresponding with game wardens across the state, he saw a large discrepancy between what wardens saw being collected and what was reported. Then, as in the new bills, all artifacts found were to be reported to the state. As it turned out, there was a 72% noncompliance of those people who were diving in rivers and had artifact – of the ones the game wardens saw, according to Dunbar.
Regardless of whether a collector is a hobbyist or a profiteer, or whether they abide by the law or not, many object to anything being taken if it's not within the context of scientific research.
Dunbar states "It's a non-renewable resource."
And Doran adds "It's the same thing as letting somebody come into Wakulla Springs State Park and say 'Well, that's a nice hardwood tree – I ought to be able to cut those things down and sell them… at least they'll grow back. These sites don't grow back. There aren't any 13,000 year-old sites being made."
Volunteering is an alternative for those interested in archaeology. The Panhandle Archaeological Society at Tallahassee places volunteers with professionals on excavations. Past volunteers helped to dig 500 six-foot deep test holes at Wakulla Springs, searching for artifacts in what could be one of the oldest paleo-indian sites in North America. The sites at Wakulla Springs and the one on the Aucilla River are recognized as two of the oldest sites.
Volunteers provided critical help during the excavation of Tallahassee's highest profile archaeological site: the winter encampment of Hernando de Soto. The first 175 meters were opened up with volunteers in order to "prove" the site, meaning to find enough artifacts to prove to most individuals that this was likely the winter camp.
Lonnie Mann, who is the Membership Director of the Panhandle Archaeological Society at Tallahassee, says that the de Soto site is considered the authenticated de Soto site of North America.
To an archaeologist, an individual artifact is a clue to a larger story, along with sediment, seeds, and bone fragments found alongside it. Glen Doran sums it up like this, "You kind of do the measurement of what's been recorded in history; it's just the last few seconds of the human experience. The only way you can get to that is through excavation. And the only way you can make the excavation payoff is by the detailed analysis, the careful note-taking, and what amounts to an interdisciplinary approach to the whole situation."
You can visit the website for the Panhandle Archaeological Society at Tallahassee for more information, and for more on this controversial topic, including a video highlighting the opposing viewpoint, visit the WFSU Ecology Blog.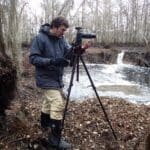 Rob Diaz de Villegas is a senior producer for television at WFSU Public Media, covering outdoors and ecology. After years of producing the music program OutLoud, Rob found himself in a salt marsh with a camera, and found a new professional calling as well. That project, the National Science Foundation funded "In the Grass, On the Reef," spawned the award-winning WFSU Ecology Blog. Now in its tenth year, the Ecology Blog recently wrapped its most ambitious endeavor, the EcoCitizen Project.
Rob is married with two young sons, who make a pretty fantastic adventure squad.