Tony "Rooster" Morrell is one of the people featured in the upcoming documentary: The Great Florida Cattle Drive: Unbroken Circles by Elam and Nic Stoltzfus.
In this video, we learn more about this educator and storyteller and why he enjoys talking about the history of Cracker Cattle and the lifestyle associated with it.
"Every state has got history and they should be proud of it," says Morrell. "My heritage is Florida Cracker and I'm proud of it."
Morrell says he takes every opportunity he can to talk about what it was like back when European settlers first tried to put down roots in the state.
"It was rough. It was tough. You know there was no stores. No Nothing," explains Morrell.
He says the cattle, horses and pigs that arrived with the explorers in the early 1500's, and began to run wild throughout La Florida, were a key source of survival for those settling here. The people who caught and eventually raised those cattle, were called cow hunters.
"Cow hunters or cow catchers," says Morrell. "Because most of the time when they first started out with this cattle, they had to hunt them."
Morrell got started as a living history educator back when he did a single presentation with a friend for the Florida's State Parks.
"It just kind of went wild after that. Everybody in the world wanted us to come do a living history presentation for them." Morrell says he has even travelled out of state to share the history, including a presentation in Washington, D.C. for the Division of Tourism.
"It kind of blossomed from the State Parks Service for me getting out and being able to share with the general public." said Morrell. "I can thank the park service for that."
Morrell says teaching and learning about Florida history is important for everyone. "This is part of our heritage. We love it. You know, I want to live it every day the rest of my life."
Tony "Rooster" Morrell passed away in December 2016, but you can see more of him in the documentary, "The Great Florida Cattle Drive: Unbroken Circles." The film debuts on WFSU-TV on Thursday, February 23, 2017 at 9pm ET.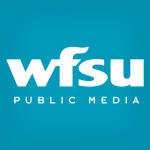 Mike Plummer is a content producer and editor for television at WFSU Public Media. He spent 25 years in commercial television as an art director, commercial director, promotion manager, station manager and creative services director before coming to WFSU in 2008. Mike likes to find the "unusual" or "out of the ordinary" stories in our Local Routes. He says the best part of his job is getting to know people he would otherwise probably not get a chance to meet. Mike is widowed, has two terriers named Truman and Dexter, and is constantly at war with the vines growing in his backyard.