In Late July, volunteer researchers spread out over Tallahassee to see how many of each butterfly species they could find. It's part of a yearly event for the North American Butterfly Association, who uses data from locations across the continent to chart butterfly trends. Members of north Florida's Hairstreak let us tag along.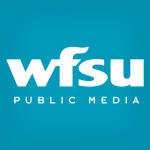 Rob Diaz de Villegas is a senior producer for television at WFSU Public Media, covering outdoors and ecology. After years of producing the music program OutLoud, Rob found himself in a salt marsh with a camera, and found a new professional calling as well. That project, the National Science Foundation funded "In the Grass, On the Reef," spawned the award-winning WFSU Ecology Blog. Now in its tenth year, the Ecology Blog recently wrapped its most ambitious endeavor, the EcoCitizen Project.
Rob is married with two young sons, who make a pretty fantastic adventure squad.